tirachard/Getty Images
Horowitz: CDC data shows VAERS is the tip of vaccine injury iceberg
The most serious and imminent issue plaguing this country was not even mentioned in the exit polling. It's the issue of "died suddenly." Every day, we discover more damning research on the extent of death and injury from the shots that to this day are promoted by the government like nothing ever before. Now, what do Republicans, with their control of the House and half the state governments, plan to do? What is their plan to stop these shots, compensate the victims, and ensure this technology is halted from further development? In fact, not only do Republicans fail to even discuss this issue, most red-state health departments are still promoting the shots. Even Australia is pulling the shots for those younger than 30. Florida still remains the only state in the U.S. doing so.

We have known from day one of the vaccine campaign that VAERS was showing unprecedented depth, breadth, and scope of vaccine injury. Here are the current top lines, courtesy of Open VAERS (a watchdog, not a government site), which include non-Americans: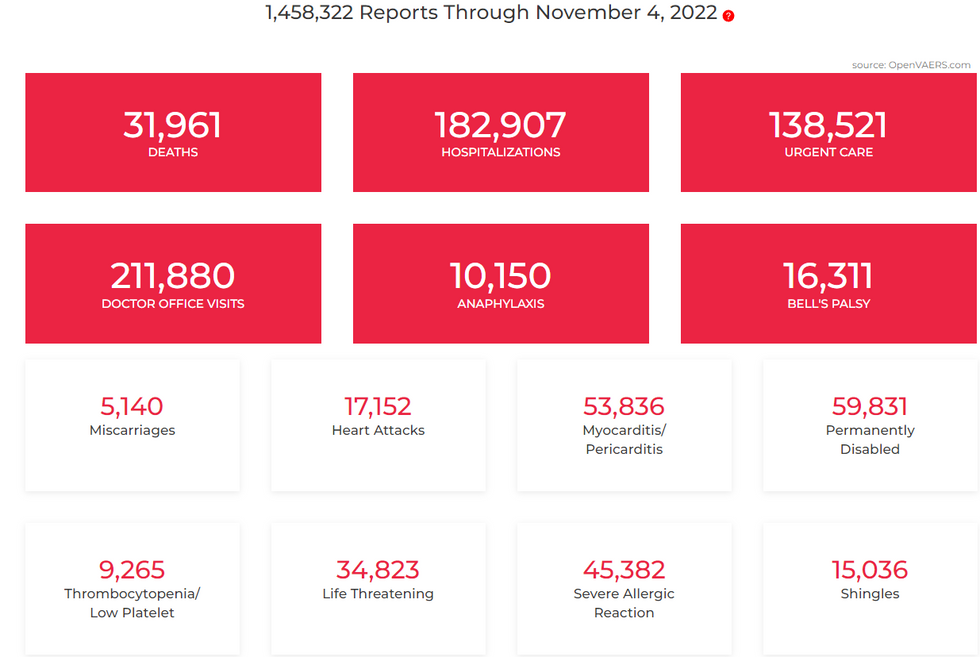 From day one, this shot crushed the upper bounds of the typical warning levels of pharmacovigilance systems that would typically trigger an automatic termination of the product's authorization. Instead it continued to be funded, promoted, and mandated in some cases.
We also knew that those appalling levels of injury were likely underreported but couldn't place our finger on the exact level. Well, now thanks to the court-released V-SAFE data from the CDC, we can prove that VAERS is likely underreported by a factor of 26. Thanks to the assiduous work of attorney Aaron Siri on behalf of the Informed Consent Action Network, we now know that the CDC was tracking vaccine injury all along through its V-SAFE program in which over 10 million Americans agreed to track their adverse events and report them back to the CDC via a phone app. Among those 10 million people, there were over 70 million adverse events, and nearly 8% of the 10 million had to seek medical attention, often several times, to deal with the injury or ailment. Roughly a quarter of all the individuals had to miss work the next day. And 4.2 million of the 70 million ailments were classified as being serious. This is hard data that was in the hands of the CDC for over a year and a half, and it was not disclosed to the public.
Now, the folks at Open VAERS have discovered a way to query how many of those with V-SAFE entries filled out a VAERS report. Here is what they found:

The SPLTTYPE field in VAERS allows us to see which reports have come from V-Safe. This is not a field you can search in Wonder, however you can search it on the OpenVAERS website. And we have a new page that breaks down the V-Safe symptoms and events.
Since 782,913 V-Safe participants required medical care, then 782,913 V-Safe participants should have received a phone call telling them to fill out a VAERS report, and there should be 782,913 reports in VAERS marked 'vsafe'.
That's not what happened. Instead, there are only 30,492 V-Safe reports in VAERS.
30,492 (actual VAERS reports from v-Safe) / 782,913 (injured people who were instructed to file a report) = 3.89% of the number that should be there. Or, expressed another way, a URF of 26x. And that's it folks. That is the undercount.
Dr. Jessica Rose has more details at her Substack.
Keep in mind that this is a URF of 26 for the more substantial injuries that required medical attention. One can safely assume that the underreporting factor is even greater for more minor injuries. But these are people who reported injury in the CDC app, yet still did not file a VAERS report. This gives us a solid numerator and denominator straight from the CDC over a large sample size showing that only 1 in 26 of the vaccine-injured, on average, filled out a VAERS report. Now let's review some of the VAERS top lines just for the U.S. alone: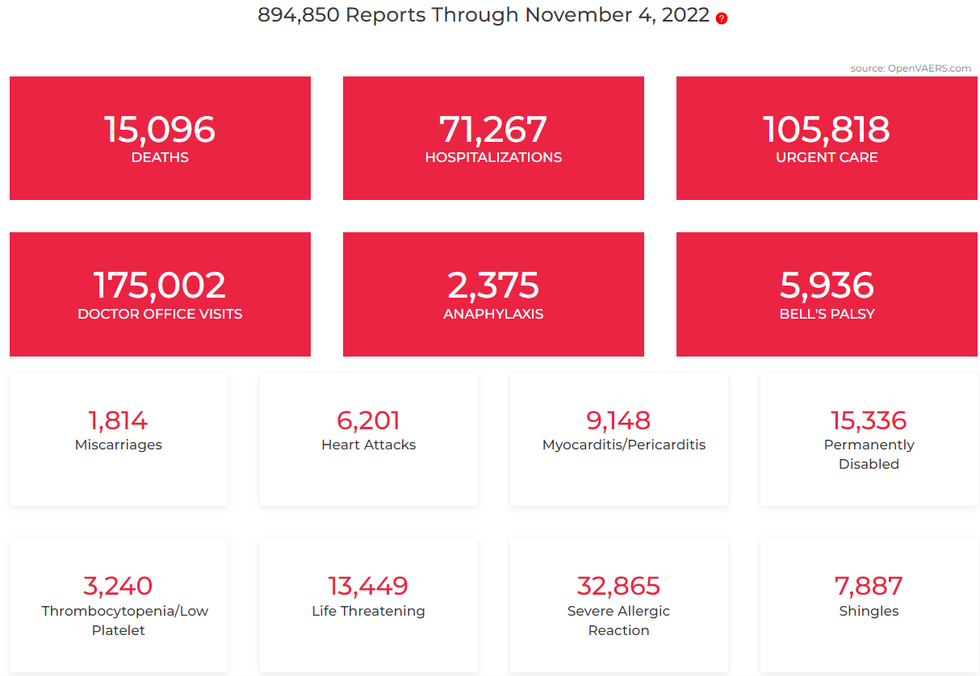 If you multiply these numbers by 26, in an attempt to capture a rough estimate of the likely universe of vaccine injury within the U.S., this would be the extent of the true death and injury:
392,496 deaths!
1.852 million hospitalizations
2.751 million urgent care visits
4.55 million doctor's visits
61,750 anaphylaxis
154,336 Bell's palsies
47,164 miscarriages
161,226 heart attacks
237,848 myocarditis/pericarditis
205,062 shingles
349,674 life-threatening injuries
While certainly none of these numbers are exact and merely reflect extrapolations of a top-line URF that is likely not uniform across every ailment, it is the average URF from the CDC's own pharmacovigilance program. Even if the numbers are a quarter or a fifth of these top lines, it would represent a government genocide of epic proportions. Now it could very well be that the URF is lower for death than for injury (V-SAFE didn't track deaths), but Ethical Skeptic has estimated almost exactly 400K unexplained deaths based on CDC mortality data.
\u201cSimply put, ~400 K have died of something which is not Covid, Long Covid, nor overdose/accident/suicide. When we examine where those people are dying, they tend to be in US counties where vaccination rates are higher.\n\nA relationship which did not exist for 2020/21-Covid.\u201d

— Ethical Skeptic \u2600 (@Ethical Skeptic \u2600) 1668553089
Also, the U.K. has recorded 23,287 non-COVID excess deaths over the past seven months, which extrapolated for the U.S. population would be nearly 115,000 excess deaths in the U.S. It's therefore not beyond the pale to consider that the 22-month death toll could be at least three times higher, particularly last year when more shots were administered. That would also hint at a death toll in the upper 300,000s. But again, even if the URF is only 10 or so, it should shock our conscience and spawn immediate TrialsAndExecution.com.
These numbers also align closely with other data points across the world. For example, a retrospective, cross-sectional study of roughly 1,000 12- to 18-year-olds who received COVID shots in Saudi Arabia found that 1.265% of the people in the study sample were hospitalized, which, extrapolated for the U.S. population, would be 2.82 million people (as a percentage of those who got the shots domestically). That would fit in with the above extrapolation depending on where you draw the line between urgent care and hospitalizations. Based on insurance data from Germany, I already extrapolated that if the same percentage in the U.S. sought medical care for injury, it would add up to over 9 million patients. That's roughly what you get if you tally the VAERS numbers for hospitalization, urgent care, and doctor's visits multiplied by the URF of 26 from V-SAFE.
If that is the degree of cataclysmic damage caused in the U.S., can you imagine the magnitude of death and injury around the world? Consider the fact that 646 million doses have been administered in the U.S.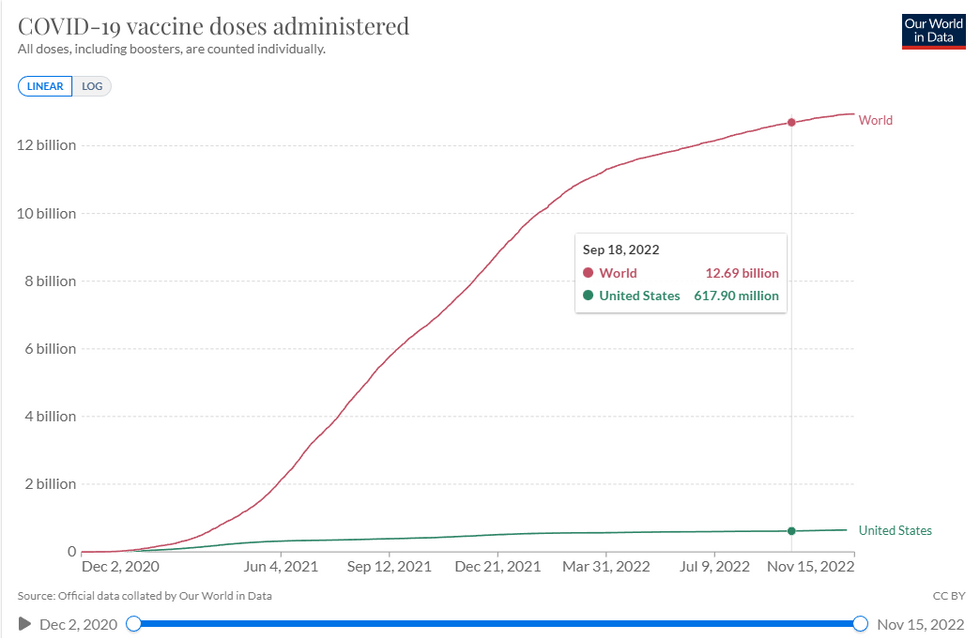 If 646 million doses potentially resulted in 392K deaths, how many deaths occurred globally after the administration of 12.94 billion doses? Assuming the rate of injury would be roughly the same and uniform, that would work out to 7.855 million COVID shot deaths globally. If you extrapolate globally the rate of clinical-level injury in the U.S. – defined by a doctor's visit, urgent care visit, or hospitalization – that would add up to 183 million clinical-level COVID jab injuries in the world.
Obviously, this is back-of-the-napkin computation, but even if the numbers are a fraction of this sum, it would be a genocide of epic proportions. Either way, this should be the most emergent issue of our time.
How is it that these shots are still being administered in red states? How is it that Republicans have not promised to even investigate injury, much less shut down this technology? Remember, Pfizer and Moderna have numerous other shots in development (including even a fentanyl overdose vaccine!) that they are now going to approve without legitimate human trials. How is it that Trump continues to shy away from this issue and even praises the vaccines as his greatest accomplishment?
Unlike abortion, most people have no enlightened consent about these shots. Even when they are not being mandated, they are still being strongly encouraged in so many settings, and many people are denied procedures or organ transplants without them. How is this not the biggest pro-life issue of all time? Yet it doesn't even register as issue #100 on the minds of our Republican overlords. Do elections matter after all?