Ildo Frazao/Getty Images
Typically, a lack of efficacy and a cataclysmic level of hundreds of different side effects would be reason to take a therapeutic off the market. But in the post-Nuremberg Code era we find ourselves in, such outcomes serve as a resume enhancer for the product. The FDA is planning a blitz of increased approvals of the shots on the youngest of Americans, yet not a single national Republican has stood up and said "No." Only one governor, Ron DeSantis, has recommended against their use in children. Which will be the first state to block implementation of the FDA's new therapeutic jihad on behalf of Big Pharma?
The FDA's Vaccines and Related Biological Products Advisory Committee (VRBPAC) has an ambitious schedule for this coming June. Here are its upcoming meetings.
June 7: Approval of Novavax first time for those over 18.
June 8: Approval of Moderna in teenagers.
June 21: Approval of Moderna in kids under 6.
June 22: Approval of Pfizer in kids under 5.
June 28: Exploring new shots for new variants.
Isn't it interesting how they are meeting about the need for new shots for the current variants after already likely approving old shots on babies who don't need the shots and for a variant that hasn't existed for over a year?
Here we have many European countries banning the Moderna shot on those under 30 because of myocarditis, yet our government will likely expand its use to babies at a whopping dose of 25 micrograms! We now have over 1.2 million adverse events reported to VAERS, and CDC researchers admitted in a JAMA paper that the myocarditis numbers – just shy of 40,000 – are "likely" underreported. Also, we now know that Pfizer and the FDA knew about 1,223 deaths shortly after release. As for Moderna, we don't have a single court-released document from the company yet, so who knows what they are hiding?
It would be one thing to approve something that worked amazingly for COVID despite terrible side effects. But the shot is a complete bust.
The expectation of negative efficacy from these shots has become so widely accepted that now the only question is who is the next famous politician or celebrity to get COVID multiple times after having gotten three or four shots. Take a look at this chart from the Walgreens COVID-19 index of all its testing this past week broken down by vaccination status:

Have you ever seen a vaccine of which the more doses you get, the more likely you are to test positive? Notice how the unvaccinated account for a lesser share of cases than either their share of the population or of Walgreens-administered COVID tests. The results are based on 81,818 tests administered nationwide in Walgreens stores from May 2 through May 8.
So now they want to take vaccines with such counterproductive outcomes and foist them upon children? Remember, the FDA has already demanded the manufacturers produce a study on subclinical myocarditis. In its Pharmacovigilance Plan Review Addendum for Comirnaty, the agency cited one study at the time of Pfizer's approval noting that subclinical myocarditis might be 60 times as prevalent as clinical myocarditis. That would bring down the 1 in 1,000 rate among young males to as low as 1 in 17 for subclinical ticking time bombs!
Let's not forget that in all the children's trials, there were zero deaths and hospitalizations in the placebo groups. So, what exactly were we trying to protect against – even before we knew the shots weren't effective and possibly negatively effective? Cold or flu-like symptoms? Well, here is the data of side effects from Moderna's 5-11 trial:
"The most frequently reported adverse reactions were pain at the injection site (92%), fatigue (70%), headache (64.7%), myalgia (61.5%), arthralgia (46.4%), chills (45.4%), nausea/vomiting (23%), axillary swelling/tenderness (19.8%), fever (15.5%), injection site swelling (14.7%) and redness (10%)."
So even before we get to more serious side effects like heart inflammation, we have a massive percentage of children getting flu-like symptoms from the shots, which is what they would get anyway from the virus. How can this pass the threshold of any principle laid out in the Nuremberg Code or the Helsinki Declaration?
It's gotten so bad that Pfizer and Moderna can no longer rely upon dubious trials showing a 90% reduction in COVID. Especially for young children, even for mild infection, they couldn't even manipulate any data showing any degree of efficacy, so they had to rely on an arbitrary measure of antibody titers rather than clinical outcomes. In shocking statement before the House Select Subcommittee on the Coronavirus Crisis, Peter Marks, director of the FDA's Center for Biologics Evaluation and Research, conceded they would approve the shots on young children even if the manufacturer's own dubious data shows less than 50% efficacy (and even that is only for minor illness).

"If these vaccines seem to be mirroring efficacy in adults and just seem to be less effective against Omicron like they are for adults, we will probably still authorize" because they nonetheless reduce the risk of severe disease in the mildest COVID variant, Marks revealed during the May 9 briefing.
Just keep in mind that, according to the CDC, 74.2% of kids 0-11 already got natural immunity from prior infection. So not only will they fail to test kids for antibodies before injecting them, but even the remaining quarter who might be COVID-naive, they are trading risk of death and severe side effects (and pervasive mild side effects) for a possible tiny degree of very short-term efficacy against sniffles, but a long-term negative efficacy against those sniffles. A preprint study by the NY State Department of Health in February showed that the Pfizer shot was just 12% effective against the first Omicron variant for 5- to 11-year-olds, but drops to -41% after just 42 days!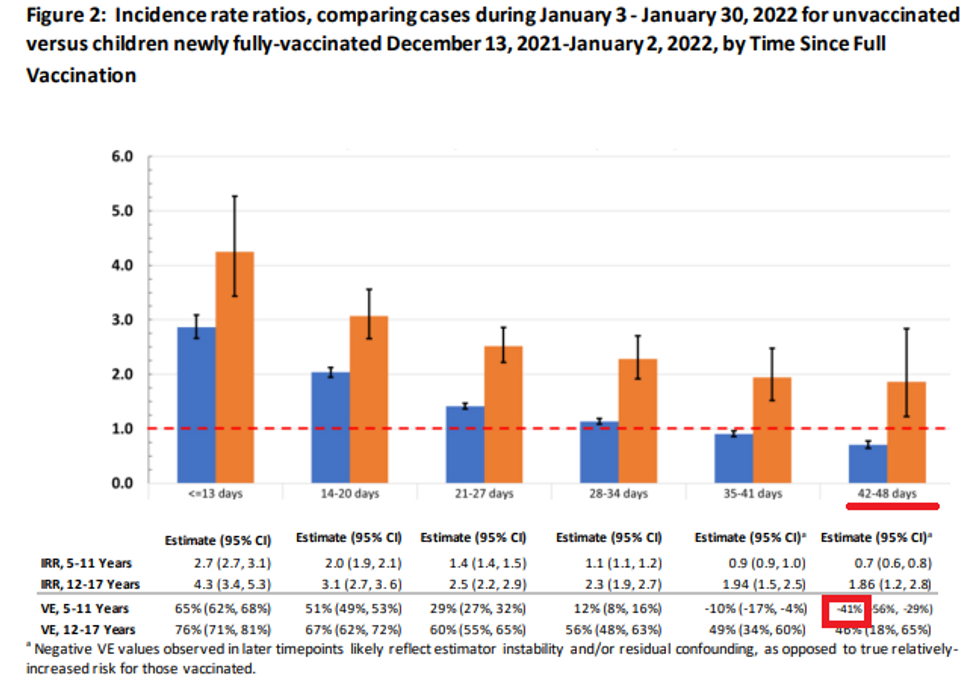 How can any of these shots be administered until we understand why so many data points seem to show intensifying negative efficacy with time? It's like investing in a stock that first goes up for a few weeks, but then you erase all the gains within a few days and then gradually lose all your principal investment.
Every Republican claims to be pro-life, but distributing these shots to young children is not pro-life, even if they are not quite mandated. Would they sit idly by if the federal government distributed abortifacients throughout their states?