Geber86/Getty Images
Horowitz: Proven in plain sight: The more you inject, the more you infect
Perhaps jabbing the entire world multiple times with an old strain of a leaky, narrow-spectrum, suboptimal antibody-inducing vaccine in the middle of an ongoing pandemic of an aggressive synthetic virus wasn't the best idea after all. Or was that the idea all along – to induce an interminable and circuitous cycle of injection and infection to sow more fear, shame, pressure, and requirements to inject even more?
A group of Central California doctors from several practices posted a preprint analysis of the UKHSA data since last year, which provided the most in-depth breakdown of COVID outcomes by vaccine-dose status of any country in the world. Their conclusion was as plain as it is jarring.
"The vaccine effectiveness (VE) for the third dose was in negative since December 20, 2021, with a significantly increased proportion of SARS-CoV2 cases hospitalizations and deaths among the vaccinated; and a decreased proportion of cases, hospitalizations, and deaths among the unvaccinated," concluded the 11 California physicians, including cardiologists and critical care doctors.
In other words, based on the timeline, "There is no discernable vaccine effectiveness among ≥18 years of age, vaccinated third dose population since the beginning of the Omicron variant surge." The study also found negative efficacy in those above 18 years old who only had two shots already dating back to September 12, 2021, and it got progressively worse.
"Of the vaccinated populations, the vaccinated with two doses have significantly higher proportion of cases since August 30, 2021. Since January 31, 2022, the third dose vaccinated population have significantly higher proportion of cases than two doses and unvaccinated."
OK, well, that's for cases, but what about hospitalizations?
"The proportions test also showed that over 18 years old two doses vaccinated population have significantly higher proportion of hospitalizations than unvaccinated (X2= 332.3, df = 1, p<0.001) since December 6, 2021 and since January 17, 2022 all vaccinated population have significantly higher proportion of hospitalizations than unvaccinated (X2 = 14.103, df = 1, p<0.001). Since January 24, 2022, the third dose population also have a higher proportion of hospitalizations than unvaccinated (X2 = 33.446, df = 1, p<0.001). Since February 14, 2022 the third dose population have higher proportion of hospitalizations than two doses (X2 = 25.946, df = 1, p<0.001) and unvaccinated (X2 = 121.11, df = 1, p<0.001)."
But surely all the people dying were unvaccinated, right?
"The proportion test on deaths also showed a significantly higher proportion of deaths among vaccinated over 18 years old with two doses than unvaccinated since September 13, 2021 (X2 = 7.6872, df = 1, p = 0.0028), all vaccinated population higher proportion of deaths than unvaccinated since January 10, 2022 (X2 = 41.017, df = 1, p<0.001) and third dose higher (X2 = 53.465, df = 1, p<0.001) than unvaccinated since January 17, 2022. Since, February 14, 2022, the vaccinated population with third dose had a higher proportion of deaths versus the vaccinated with two doses (X2 = 2.8687, df = 1, p p<0.001)."
At what point do facts matter? Well, since late March, the U.K. stopped publishing these reports because, let's just say, they didn't like the results. The absurdity of covering for a negative efficacy, leaky vaccine and even mandating it – while complaining about endless COVID spread – has come full-circle with the CDC's travel recommendations. They have a color-coded map of countries divided by the level of COVID risk. It just so happens to be that the higher the level of COVID, the higher the rate of vaccination in that particular country!
In Orwellian fashion, the CDC warns, "Make sure you are up to date with your COVID-19 vaccines before traveling to these destinations." Well, perhaps your protection could protect you against the virus that their same mode of protection failed to protect them from.
Nowhere is the Orwellian nature of this vaccine more apparent than in Portugal. The country has the highest vaccination rate in Europe and, you guessed it, the highest COVID death rate this past month on the continent and second highest in the world.
And which country had the highest COVID death rate in the world? Taiwan.
Here's Taiwan's vaccination curve: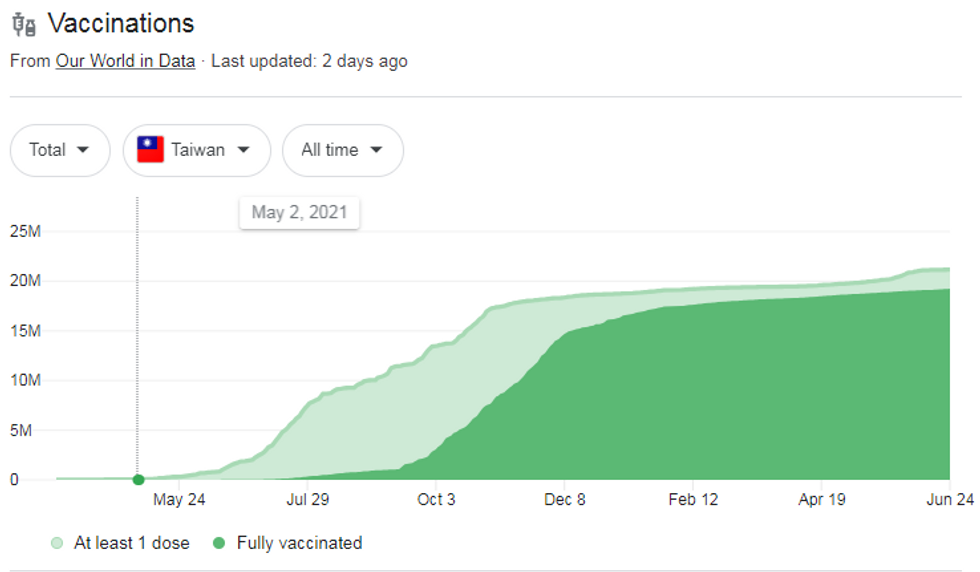 And here's its death curve: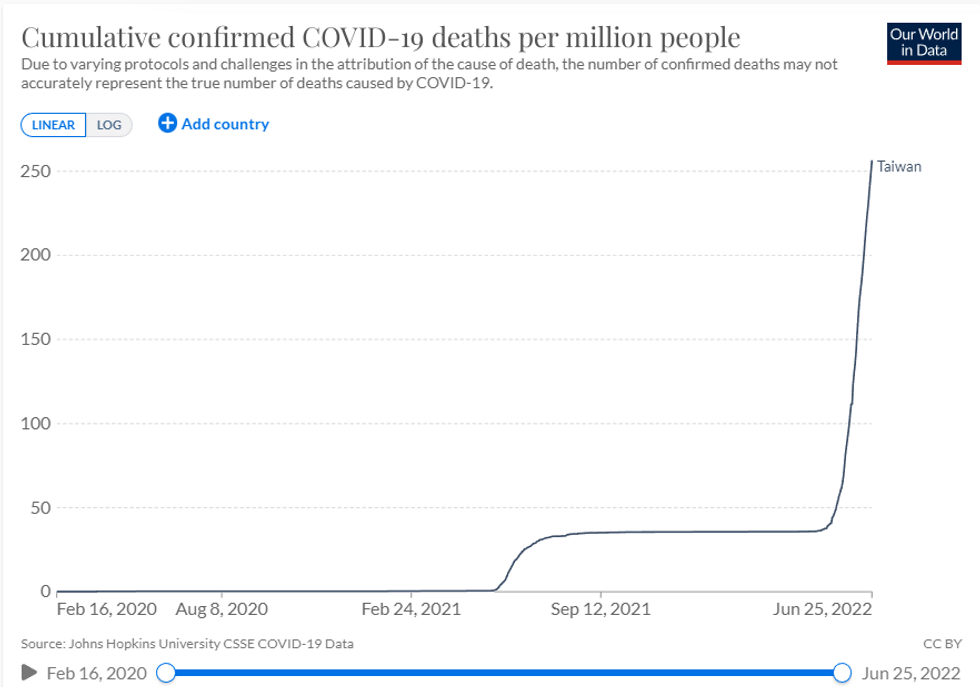 How is it that Taiwan has incurred nearly 100% of its deaths after the vaccination started and 87% of them just since this May? A country that withstood the tougher variants with almost zero deaths is now suffering a death curve as bad as the worst of the Delta waves in the western countries.
How could our government continue with this jab without investigating whether it's causing original antigenic sin or antibody dependent disease enhancement, now that everyone concedes there is "waning" efficacy? Over a year and a half ago, the FDA acknowledged (p. 52) that "risk of vaccine-enhanced disease over time, potentially associated with waning immunity, remains unknown and needs to be evaluated further."
Where is that evaluation now that we are seeing negative efficacy correlate with waning immunity like never before in the history of vaccination? Instead, our government is now purchasing $3.5 billion of a new updated Omicron shot from Pfizer that has not even been introduced yet! Rather than spending that money on the vaccine-injured, they are handing a company that makes more money than ExxonMobile a blank check so they can injure people with complete immunity, while having the government purchase, distribute, market, and even mandate their product.
It's almost a certainty that Pfizer knew from day one – even before Omicron – that the vaccine never really had much efficacy and waned quickly. British journalist Phil Harper wrote a piece with painstaking detail showing how Pfizer knew already in 2020 based on the level of N-antibodies in the placebo and trial groups after their subsequent follow-up blood draws that the 95% efficacy proclamation was fraudulent and that their data might have never indicated any degree of efficacy.

This would be a scandal of epic proportions if we had COVID and COVID shots in our rearview mirror. But to continue the endless cycle of more COVID and more failed shots without any major corner of the Republican Party raising concerns is political and physical malpractice.