Geber86/Getty Images
Horowitz: Never again? The RSV human experimentation shots continue full steam despite known concerns
The Biden administration might have ended the COVID emergency, but officials have no intention of ending the COVID human experimentation state.

Republicans in Congress and conservative media figures think COVID and everything it unleashed on us is over. But in reality, before we can even pledge that "never again" will we allow our fellow citizens to be experimented upon with dangerous injections, Big Pharma and the FDA are already doing it again!
Earlier this month, the FDA approved GlaxoSmithKline's shot for RSV for those over 60 years old after just two years of research. This is for a virus that doesn't pose a serious threat to seniors and for which we've failed in the past to develop a safe vaccine. The vaccine had major red flags based on the manufacturer's own untrustworthy data. In other words, Warp Speed was not an anomaly; it is the new paradigm and has replaced the Nuremberg Code for ethics of medical experimentation. Within the next few months, the FDA is likely to approve Pfizer's and Moderna's RSV shots for seniors, as well as several candidates for pregnant women.
The formulations of most of these shots are likely very similar, so red flags from one cohort of the study should inform us on the problems with the other. U.K. health experts are now raising red flags on Pfizer's shot for pregnant women based on the company's own clinical trial data. In an article published in the British Medical Journal, the authors warn that after GSK was forced to pause its RSV shot for pregnant women, Pfizer's version likely has similar problems. "Results have raised concerns about a possible increase in preterm births, and experts are calling for further analyses of the data and for post-approval monitoring of the vaccine, should the FDA approve it," reports BMJ.
GSK was forced to halt the trial in 2022 after one death occurred in the trial, attributed to acute disseminated encephalomyelitis 22 days after vaccination, "considered by both the study investigator and FDA to potentially be related to the vaccine." They also found a 6.8% rate of preterm births in the trial group compared to 4.9% in the placebo group. The rate of neonatal deaths was also double.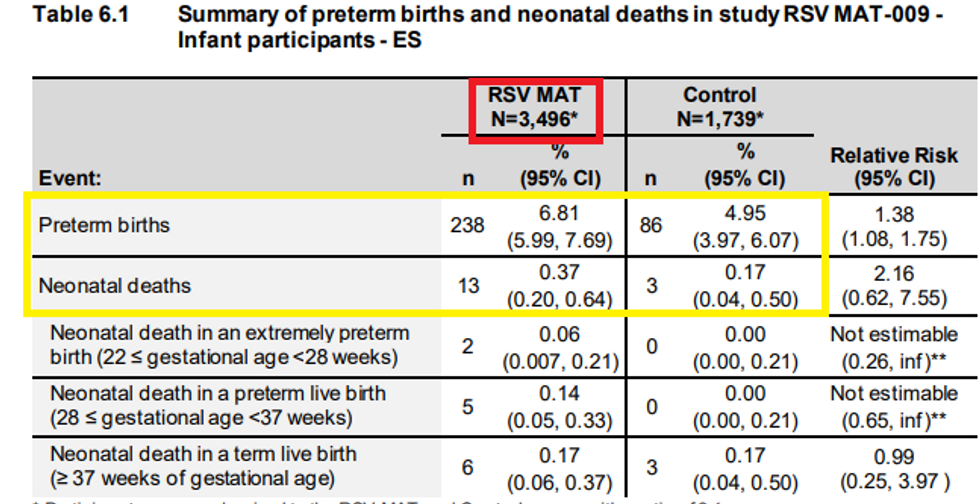 Naturally, we should be concerned that given the failures of RSV shots in the past, the genocide we've experienced with the COVID shots, and the aborting of the rushed RSV shot from GSK, officials should immediately halt the Pfizer shot, which is pretty similar in its mechanism of action. This is especially true given that they discovered the same safety signal. Here are the details from the October 2022 trial data, per the BMJ article:
Differences in preterm births are evident in Pfizer's RSV trial. In adverse event tables for its phase 2 study, published in October 2022, Pfizer reported 3 out of 116 (2.6%) premature births in the placebo group and 6 out of 114 (5.3%) in the group that received the vaccine that was chosen as Pfizer's final product.
In a prespecified interim analysis of Pfizer's related phase 3 trial published in April, 201 babies (5.6%) were born prematurely to vaccinated mothers v 169 babies (4.7%) in the placebo group. According to the protocol of the trial, Pfizer was studying preterm birth as an "adverse event of special interest."
Yet the FDA advisory committee plans to vote on approving this shot later this week!
On top of this, the FDA already approved for seniors the GSK shot, which CDC advisors admitted "can overstimulate the immune system," and plan to approve the Pfizer senior shot, which has major signals for Guillain-Barre syndrome. Within a few months, the FDA will likely approve Moderna's mRNA version, which openly shows 200 adverse events and 10 serious ones per mild case avoided. And remember, these are all similar formulations to the GSK shot for pregnant women that had to be pulled! In other words, human experimentation is going on in full swing, as if nobody was hurt by the COVID shots, and we are still funding it and indemnifying the perpetrators from all liability. How is this not the biggest pro-life issue of our time?
There are still millions of people suffering from their first experimental jab, even as they roll out the next one. A recent clinical cohort study of 23 patients hospitalized for vaccine-associated myocarditis found that only 20% had resolved their abnormalities from scarring on the heart tissue six months later. What does that portend for countless young adults for years to come with latent heart damage and the risk of sudden cardiac arrest?

Well, when you look at the insane number of excess deaths over the past two years, it might offer a glimpse into the ticking time bombs these shots have implanted in countless young people. In the U.K, there were over 34,000 excess deaths last year just in the seven months from May to December excluding COVID. That is the equivalent of roughly 170,000 excess deaths in the U.S. over a seven-month period. This "mystery" is unparalleled in human history.
Are we really going to allow them to do the same with more rushed and unnecessary vaccines?
Some might suggest that as long as governments don't mandate these shots, we should just let the market sort out the prevalence of their use. But there are two problems with such an apathetic response. First, after getting approval for seniors, the companies will eventually get approval for the shots for children, which will land the RSV jabs on the childhood vaccination schedule shortly after, thereby making it a mandate in many schools.
But more importantly, even absent a direct mandate, government has created a socialist pipeline of funding and indemnification that shields these shots from all market forces. Not only do officials absolve pharmaceutical companies from liability, not only has Biden allocated billions in new funding on top of existing funding to help these companies create shots the market wouldn't sustain, but the government uses taxpayer funding to pay off every medical institution and association to promote them.
\u201c'A total of $6,113,504,125 was injected into 1,377 US health centers, hence the intense push to promote the vaccine and unfortunately, suppression of any critical information.. A founding member was the American College of Obstetricians and Gynecologists (ACOG)\u2014the group\u2026\u201d

— Sonia Elijah (@Sonia Elijah) 1683889723
For example, why was every OB/GYN breaking all precautionary principles and promoting this shot for pregnant women? The American College of Obstetricians and Gynecologists received over $11 million dollars for being the marketing arm of a corrupt, indemnified private company. 17,000 organizations were paid off with our own money to promote a dangerous product funded by our own money. They will do this again with the RSV shots and with the endless litany of others in the pipeline.
The time has come for Congress to treat the vaccine industry like every other business in terms of taxation, regulation, subsidization, and indemnification. After all, the product only goes into our bodies.