Artur Widak/Getty Images
Horowitz: How is this ethical? Pfizer's own trial shows 1/71 babies experienced severe adverse events from shot with no discernable benefit
We have never witnessed a greater violation of the Nuremberg Code regarding human medical experimentation. The FDA's Vaccines and Related Biological Products Advisory Committee (VRBPAC) is set to approve all of Pfizer's and Moderna's shots for babies as young as six months today, even though learned experience and the manufacturer's own trials now show zero net benefit, possible negative efficacy, and a degree of adverse reactions that would outweigh any hypothetical benefits.

For today, we will focus on Pfizer's data, as represented in the FDA's 66-page briefing document. Here are six points to consider:
1) To begin with, the entire premise of pursuing kids as candidates for these COVID shots at this juncture in the pandemic is illogical and unethical for a number of reasons.
Most kids already had the virus. According to the CDC, already in February, 74.2% of "children and adolescents had serologic evidence of previous infection with SARS-CoV-2, with approximately one third becoming newly seropositive since December 2021."
The vaccine is for an extinct variant, and even VRBPAC member vaccinologist Dr. Paul Offit admits that vaccinating for the original strain during the circulation of Omicron variants runs the risk of harming the immune system with original antigenic sin and making it harder for them to fight the virus. He also noted that the shots are "not risk free." In fact, in just two weeks, this same committee is meeting to discuss a "future framework" for the vaccines in recognition that they don't work for the new variants.
Kids were never at a meaningful level of risk from this virus, yet they are at the highest risk for the known heart ailments from the shots.
We already have millions of adverse events reported to the pharmocovigilence systems throughout the world at an unprecedented rate and hundreds of studies showing elevated risk for an endless stream of maladies, which was affirmed by court-released documents from Pfizer.
2) Now we can move on to the Pfizer trial for young children ages 6 months through 4 years. From the get-go, as has been the case for all of the trials in younger people, researchers could not find any benefit from the shots against death or critical illness because nobody in either arm of the trial wound up getting critically ill and dying from COVID. So off the bat, any potential benefit would only be against the sniffles of Omicron, which, as has been demonstrated over and over, the shots never provided protection from mild illness, even for the original strain. In fact, every data point from every country that measures case rates by vaccination status shows negative efficacy. So for young children who don't get critically ill, you are actually making it more likely that they will get the virus, as witnessed by HHS Secretary Xavier Baccara and Canadian Prime Minister Justin Trudeau, who actually both got COVID twice after getting multiple boosters.
3) Given the lack of efficacy of any clinical trial for children, Pfizer instead decided to make the primary endpoint of its trial immunobridging rather than clinical outcomes. In other words, the company merely measured antibody levels. To begin with, this is a meaningless measure. As Eric Rubin, editor of the New England Journal of Medicine, said at the April meeting of VRBPAC, "We know what kind of antibody response can be generated, we just don't know if it works." But it's worse than that. Pfizer had to manipulate the sample size to even find a positive outcome in terms of antibody levels.
Whereas Pfizer claims the sample size of the clinical trial for ages 6 months through 4 years consisted of 4,526 participants, researchers only used a tiny percent for the serum tests – 82 children ages 6-23 months and 143 children ages 2 to 4 years old who had no prior COVID infection. There is no understanding of how and why specifically those kids were selected as the key subgroup to determine the primary endpoint.
So who was the control group? Not the blood samples from other babies and toddlers in this very trial from the original pool of 4,526 participants, but a retroactive comparison to 170 random people ages 16 to 25 years from Pfizer's previous adult clinical trial.

What in the world is going on? I think we can take a guess. Almost all kids today likely already have antibodies through natural infection regardless of vaccination status, so the company rigged the trial to have a fake control group from a past variant and adult population.
Moreover, the entire premise of using antibodies to indicate superior immunity from the shots is bogus. After finding numerous people with antibodies from the shots who were not really immune, an Italian study published in Frontiers in Immunology concluded that "evaluation of vaccine-induced immunity" in the immunocompromised population "should also include quantification of Ag-specific T cells."
4) Sensing the public disquiet over its shell game with antibodies, Pfizer attempted to show that its trial did indeed indicate an 80% reduction in actual COVID cases among the trial group. As Alex Berenson points out, this is one of the greatest frauds of the entire two years of fraudulent clinical trials. In fact, there were many more total COVID cases in the trial group than placebo group – 225 in trial and 150 in placebo (among those 6 months to 2 years old, it was 98-58 trial vs. placebo; among 2 <5 it was 127-92). Thus, as witnessed by real-world experience, there is straight-up negative efficacy for several periods of time that will outweigh any isolated period of illusory efficacy. The data is from tables 19 and 20 on p. 39 of the briefing document.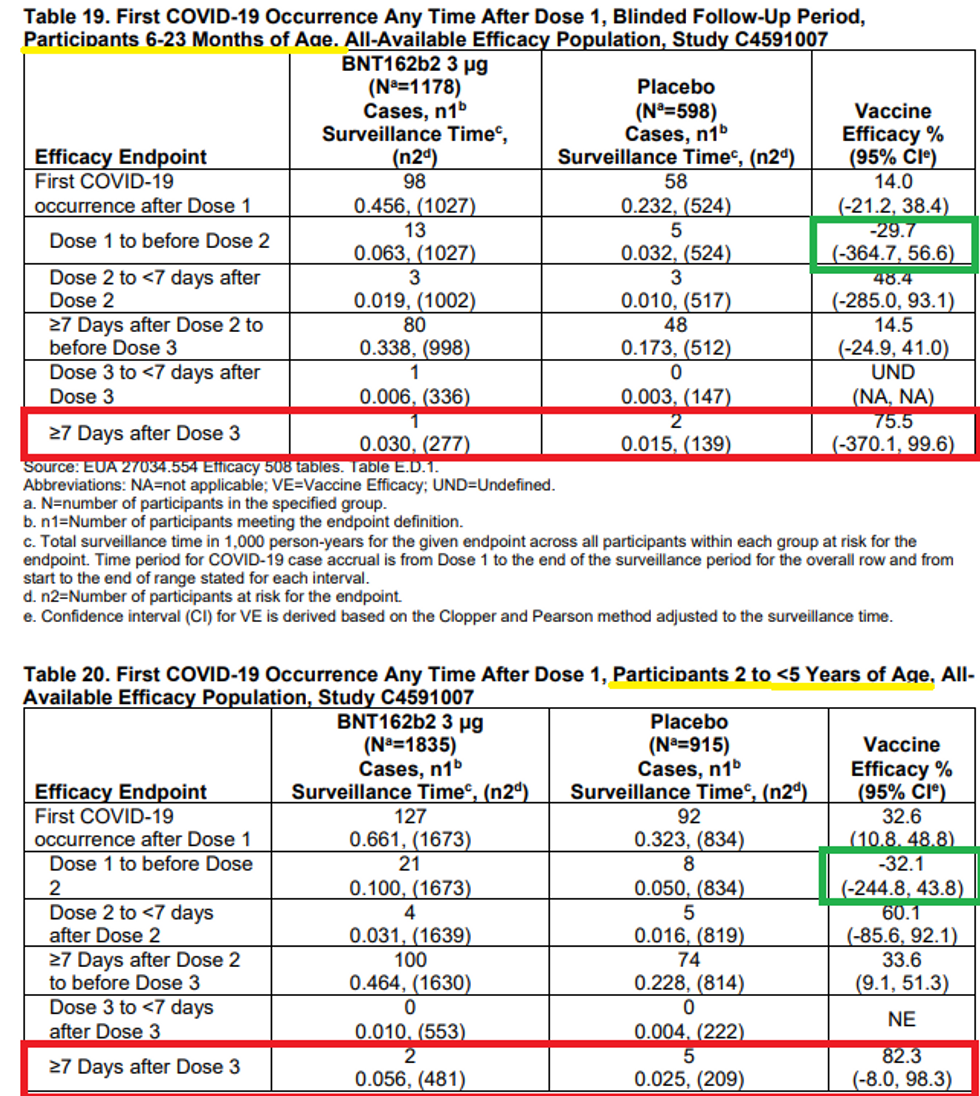 So where did the researchers get the positive efficacy from? They ignored 365 of the 375 COVID cases and just focused on a total of 10 of them from one sub-cohort – those seven days after the third shot! So, it was clearly negative all along, and then they shut the music off in the game of clinical trial musical chairs for just a few weeks and find statistically underpowered numbers to say it works!
In fact, we have consistent data from the U.K. and from Walgreens in the U.S. showing that the vaccine is negatively effective for most of the time and also after several months, but there is a sweet spot shortly after the third shot (or shortly after the second shot). This is an unbelievable level of fraud. Also, keep in mind that they unblinded the groups in late April and then vaccinated the placebo group, so there is no way to monitor the long-term data past the third dose, which would likely wipe out any degree of efficacy at any stage.
5) While all the previous children's studies did not show any case of death or critical illness, this trial does claim (p. 56) there were eight kids who had "serious" cases, with one having gone to the hospital. Six of the eight were among the vaccinated kids, as was the one who was hospitalized. The numbers are too low to draw any conclusions, but if anything, this would indicate some degree of negative efficacy. How this can get approval is astounding.
6) Now that we've established that, at best, there is no long-term benefit to these shots for anyone, much less babies, let's go on to the adverse events. On the surface, Pfizer's own report is an indictment of the shot's safety. Table 21 on page 42 states that 61% of babies 6 months to 2 years old experienced a "systemic reaction within 7 days." This means that it's not just irritation of the injection site but something more along the lines of fever, chills, or muscle aches. Right off the bat, that should be disqualifying, because that is the upper bounds of discomfort the kids would suffer from the virus anyway. The only rebuttal to this is that almost as many placebo group patients experienced such reactions. But that in itself should be an indication there is something fraudulent with the placebo group. It's understandable for even a saline injection to cause irritation at the injection site, but "systemic" reactions?

This point is further driven home by the number of severe adverse events reported, which is 1.4% of the trial group. Incidentally, that number would harmonize very well with several other data points around the world hinting at a 1%-1.5% severe adverse reaction rate among the general population. However, the chart bizarrely shows that the placebo group experienced an even higher level of severe adverse reactions! You tell me how a saline injection can cause that. Something is really off. At worst, their own study shows the shots are dangerous; at best, their data is worthless or fabricated.
Moderna's safety data (p. 54) for its newly released adolescent trial also shows the same concept. A quarter of all kids injected experienced a Grade 3 or higher level of adverse reaction, which means they couldn't go to school because of illness. Moreover, 78.4% reported headaches, 75.2% reported fatigue, 54.3% reported muscle aches, and 49.1% reported chills. Why would we give them the pathogen for the worst-case scenario … of getting the pathogen at that age?! This is even before we get to serious issues like blood clotting and myocarditis. Toby Rogers has a comprehensive analysis of the fraud of the efficacy data in Moderna's trial as well, which is similar to the ploys used by Pfizer
The bottom line is it would be one thing to approve shots with such bad data in middle of an emergency. But how can they get emergency authorization when our other policies reflect the fact that the emergency is over, and particularly for the cohort of people for whom there was never an emergency?

The only conclusion one can draw is that the manufacturers want to erase the only control group left to repudiate and serve as a living testament to the failure of their great human experiment. Just like they wiped out the control group in every one of their clinical trials, so to they hope to ensure there is no cohort of the population left without anyone varnished by their gene therapy. It's bad for business.