FG Trade/Getty Images
Horowitz: Republicans must shed their 'sacred cow' refusal to discuss vaccine injury
You can hear the hushed tones from elected Republicans when urged to take action against the flawed shots. "Look, I oppose mandates, but I can't look like I'm anti-vaxx."

We are now at a point where no matter how much information comes out – both real-world experience and academic studies – showing the shots are dangerous, ineffective, and likely negatively effective, Republicans will not raise any concerns. The government can force any shot at any time on any demographic, fund it, censor all doctors raising concerns, and absolve the manufacturers of all liability and legal discovery, and it's all good. Just slap the name "vaccine" on it, and it is politically untouchable, like Social Security.
In reality, we are reaching a breaking point – not just with these shots but future ones in the pipeline – when Republicans are going to have to engage the issue of sickening violations of the Nuremberg Code and the principle of enlightened consent. "I like all vaccines, just don't mandate it," was good enough in January 2021, but not now, after everything we've learned about the manufacturing, clinical trials, clinical experience, obfuscation of information, and willful disregard of known dangers.
To review all of the clear safety signals we've covered over the past year would be too voluminous for a column, but here are just a few red flags that have come to light this past week – as they have begun to inject babies and toddlers with a shot for a variant that no longer exists.
\u201c\ud83d\udea82.9M people in the \ud83c\uddfa\ud83c\uddf8 now have a disability (ages 16+). Increase in trend occurred: Jan 2021\u2013Jan 2022 \n\u2014\u2014\nSource: @USMortality\u201d

— TexasLindsay\u2122 (@TexasLindsay\u2122) 1654825638
Gato Malo has an extraordinary analysis of the correlation at his substack. It's important to note that VAERS has over 54,000 entries for permanent disabilities allegedly resulting from the COVID shots. Immunologist and mathematician Dr. Jessica Rose has estimated a possible under-reporting factor of 31 in VAERS for the COVID shots, which would translate into roughly 1.7 million permanently disabled from the shots. Moreover, numerous data points from Israel and Germany, showing roughly 1% or so severely injured, when extrapolated to the U.S. population, would net several million individuals who sustained some sort of serious (not necessarily permanently disabling) injury.
We can go on and on with endless research just from the past few weeks. But the point is that no amount of information will get Republicans to move off their political safe space of "mandates bad, but the COVID shots are awesome and we won't speak out about them." At some point, they will be made to care. Pfizer plans to double the dose for adults. Pfizer up front is saying that three shots out of the gate for babies likely won't be enough and they will need boosters of this outdated shot.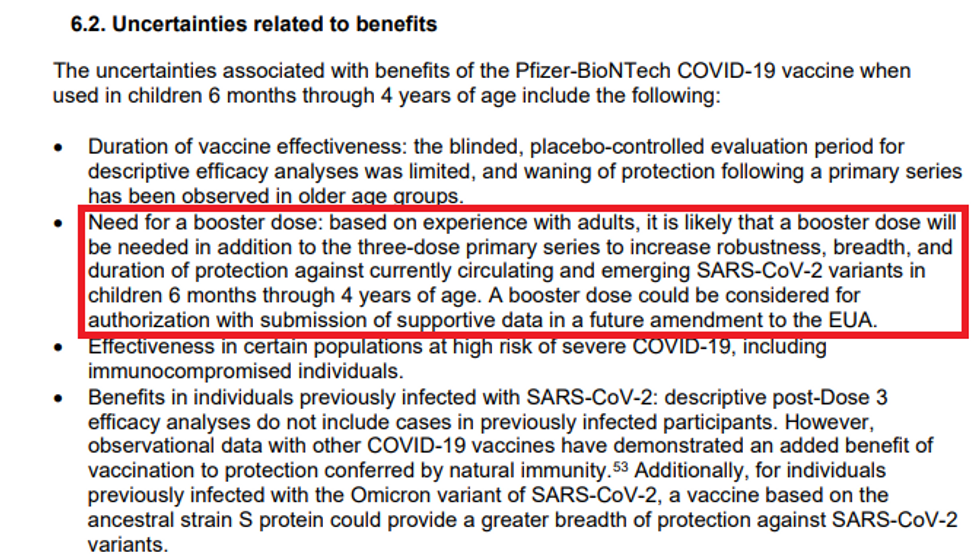 Furthermore, they are already formulating new "variant" shots, and today the FDA advisory committee is meeting on the "future framework" to essentially allow them to produce any new variant shot without human trials!
In the FDA briefing document for today's meeting, they reveal a jaw-dropping degree of scientific malfeasance turning us all into lab rats. Page 13:
"The evaluation of modified vaccines for the purpose of vaccine strain composition decisions will need to rely mainly on comparative immunogenicity data due to the time constraints involved in vaccine manufacturing and clinical efficacy evaluation."
In other words, because it's too much trouble for poor, cash-strapped Pfizer and Moderna, they can now skip all human trials for any future shot they label "coronavirus" and solely rely on the completely inaccurate measure of antibody levels in a lab. I'm not even seeing a requirement for animal trials. Remember, the fatality rate of the current version of the virus doesn't meet the definition of an emergency, yet they are cutting even more corners than when there was an emergency because it was all a way to groom us into accepting the "new normal."
Mind you, the next formulation is for the B.A.1 Omicron variant, when we are already on B.A.5 and will likely be well beyond this variant by the time these shots are distributed. This would violate the Nuremberg Code severely enough if we had no major problems with the original shots, but given the endless degree of maladies and injuries from these shots, to suggest they will make new ones without clinical trials is heading for a very dark time.

So once again, for Republicans to continue spewing the vacuous bromide of "vaccines are good" is not going to cut it. It's similar to their long-standing political posture of "legal immigration is good."
Thomas Sowell once quipped
that such an assertion as "we are a nation of immigrants" is a vapid as saying, "We are a nation of shoes." He explained that you can't debate an issue in the "abstract" and must focus on the
specific
types of immigrants not just "abstract immigrants." Likewise, with vaccines, some medical interventions and therapeutics are great, some are lousy, and some turned out to be dangerous. We need to focus on the dynamics of these particular so-called vaccines, not nostalgia from abstract vaccines. At some point, facts need to matter and the GOP will be made to care about the violations of the Nuremberg Code.