Pavlo Gonchar/Getty Images
Horowitz: The FDA wants to steal our safe drugs while mandating dangerous ones
At a time when the federal government is mandating dangerous, experimental products upon us that are absolved of all liability, it is also seeking to ban fully established, safe drugs that are absolutely on the hook for liability. The same government agencies that fund, market, distribute, and indemnify mRNA shots, Paxlovid, and remdesivir are also the judge, jury, and executioner of their competition! Meanwhile, the FDA gets to share in royalties of Moderna, paying the "regulators" even higher salaries to continue doing the same. Have you ever heard of such a genocidal pay-for-play, conflict of interest, and fascism perpetrated against our individual health?

One of the most shocking yet revealing dynamics that played out under COVID fascism was when the federal and state governments started quietly encouraging pharmacists to block valid prescriptions for ivermectin and hydroxychloroquine and even for budesonide and antibiotics to treat COVID. The FDA famously tweeted out, "You are not a horse … y'all" in August 2021, in an attempt to mislead the public into thinking there was no human form of ivermectin. New documents show that FDA comms staff were congratulating themselves on a job well done.
Several weeks ago, I identified a provision on page 3,542 of the infamous fiscal year 2023 omnibus bill that seems to give the FDA authority to ban the use of medical devices for off-label purposes, a concern first raised by Dr. Joel Zinberg, associate clinical professor of surgery at the Icahn School of Medicine, in the Wall Street Journal.
\u201cHere is the problematic language on page 3542 of the omnibus that could possibly allow the FDA to ban off-label use https://t.co/sYEiH8XNgp\u201d

— Daniel Horowitz (@Daniel Horowitz) 1676040298
Now, Just the News is reporting that a number of doctors, including Johns Hopkins medical professor Marty Makary, are concerned that this provision might be interpreted to include off-label drugs as well.
The omnibus language is not easily understood by the layman. It adds new clauses about "intended uses" to Section 516(a) of the Federal Food, Drug, and Cosmetic Act.
Applied to existing law, the revisions grant the secretary of health and human services authority to initiate a regulatory proceeding for an already approved "device intended for human use" to ban intended uses that present "substantial deception or an unreasonable and substantial risk of illness or injury."
Prescribing drugs off label is the key to innovative thinking for outside-the-box doctors who are often able to treat a variety of vexing ailments without being hamstrung by unscientific guidelines and protocols. Off-label prescribing has been done since the dawn of time. The only purpose of the label is to restrict the manufacturer of the drug from marketing the product for another purpose. But individual medical professionals are free to use it as they see fit.
In the ultimate case of projection, it is actually Pfizer and the federal government who are guilty of violating the terms of the label. Government regulators are allowing Pfizer, to this very day, to market its COVID shots with the same indication as typical sterilizing vaccines, even though everyone concedes that the product does not stop you from getting the virus at all.
Here is the indication and usage printed on the official FDA label for the Comirnaty vaccine (yes, technically Pfizer's commercial vaccine has not been licensed yet).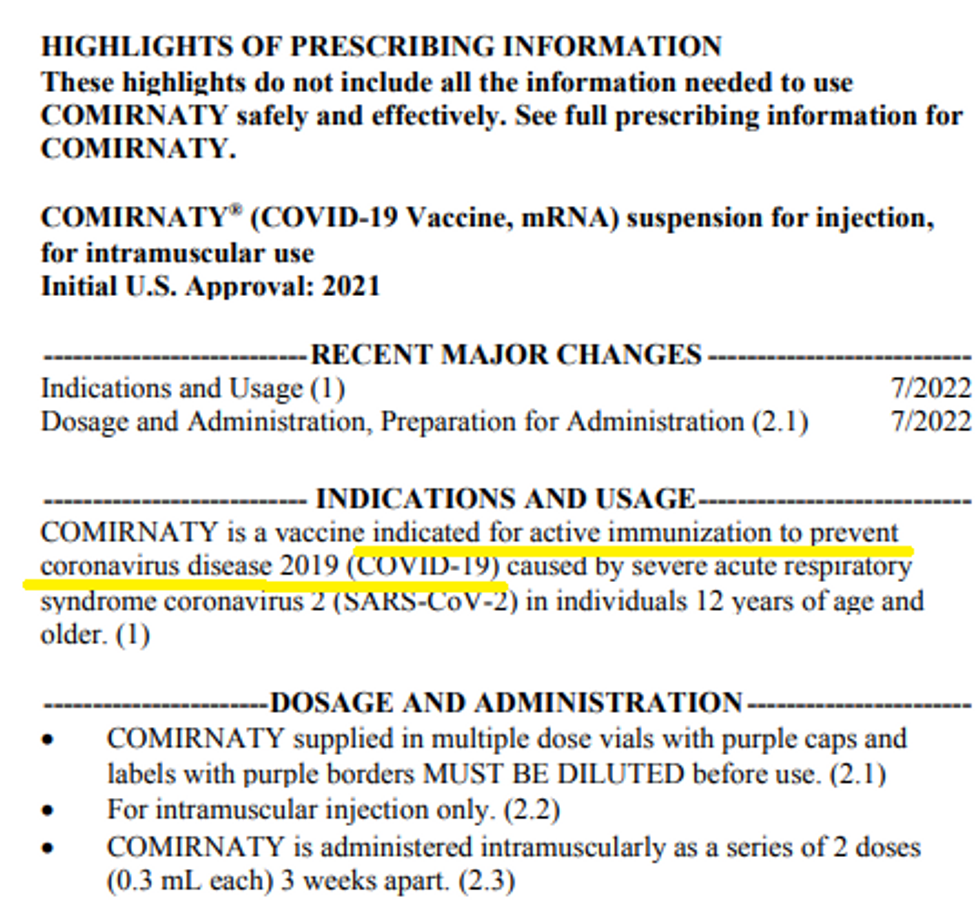 As we saw in so many high-profile vaccine propagators in government, they contracted COVID multiple times after multiple doses and attested to being miserable for a number of days. Even under their false premise that the jabs somehow helps with mortality, this labeling they continue to market is completely false. Then again, the ultimate off-label use is the government marketing, funding, and then mandating the use of all the vaccines that have zero label and are still in emergency use authorization. Every rule and law has been broken to accommodate government-indemnified and -funded therapeutics, while they seek to block fully approved drugs from being used by doctors.
Remember, Edenbridge, the primary maker of ivermectin in America, cannot (and indeed does not) market its product as preventing coronavirus disease. Moreover, Edenbridge is not funded by government and is also on the hook for liability if its product causes harm for any use of it. But as always, doctors are free to prescribe it for any use with the consent of a patient.
Contrast that to Paxlovid, which is a novel drug under EUA that has 30 categories of contraindications, including with common drug categories like statins and steroids. Pharmacies are able to dispense it without any prescription whatsoever and even without a COVID test! Moreover, the FDA carved out a special exception to the prohibition on advertising emergency use products by allowing Pfizer, with taxpayer funding, to advertise Paxlovid!
\u201cPfizer Launches New Branded Paxlovid Ad For COVID As It Waits For FDA Approval\n\nEUA products typically cannot be advertised, but the FDA granted Paxlovid an exception at the end of 2022\n\nhttps://t.co/zzGYHuwp5u\u201d

— Chief Nerd (@Chief Nerd) 1676812439
Keep in mind that Paxlovid's entire success and, therefore, Pfizer's entire financial ability to market this still-EUA product is built upon over $10 billion in taxpayer funding.
This is not the first time Big Pharma snuck in a provision to attack alternative safe treatments. In December 2020, Trump and the GOP Senate passed a provision, as part of the massive 2,124-page omnibus bill, that forbids "any person, partnership, or corporation to engage in a deceptive act or practice in or affecting commerce associated with the treatment, cure, prevention, mitigation, or diagnosis of COVID–19."
That clause was clearly designed to target front-line doctors treating patients with off-label drugs and supplements, but it quite literally applies to the government and Pfizer regarding the COVID shots! Instead, they have attempted to use it as a cudgel against doctors trying to treat patients.
Let's review the current state of play. The FDA absolves dangerous and ineffective products of all liability while it funds, markets, distributes, mandates, and illegally advertises products off label and breaks every rule and medical norm in the process. Then it clears out the competition by applying those laws ten times stricter to bar even fully approved drugs not advertised off label. Now there is one more element. The government itself, in the ultimate conflict of interest, has a share in the royalties of Moderna's success in its COVID products! Moderna was forced to pay NIAID a $400 million "catch-up" payment on missed royalties for the government's share in the patent.

Is it any wonder why the government is now seeking to ban competition by ensuring that whenever we face gain-of-function pandemics (that the government also funded), the government's choice of therapeutic will be the only thing allegedly standing between your life and death, but very often might put you in the grave?
There is an immediate need for Congress to pass legislation barring the FDA from preventing doctors from prescribing off label. State legislatures must also work to preserve this relationship, and in the case of really safe drugs like ivermectin, they should make them over-the-counter, as is the case in many Latin American countries. Do we really need to wait for the "next pandemic" and millions more dead before we act against this tyranny?