Horowitz: What did Pfizer know and when? 3 important findings from recent document releases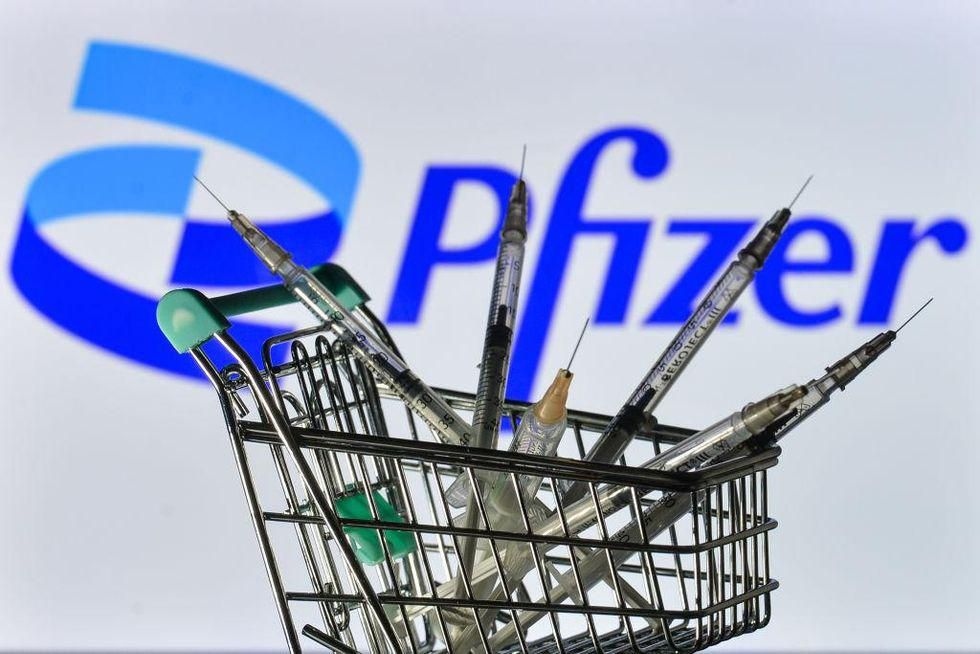 It's no longer January 2021, when we all thought we lived in a world of normal vaccines. It's no longer OK for elected officials to mindlessly repeat the bromide "safe and effective" without any reflection about the mass injury we've witnessed, along with the waning and the negative efficacy, in itself, engendering calls for endless boosters. We have so much information that raises serious questions, not the least of which is from Pfizer's own documents, now ordered released by a federal judge, thanks to Public Health and Medical Professionals for Transparency, and FOIA requests from groups like the Informed Consent Action Network.
Here are just three of the most recent revelations from these documents that expose the government/pharma narrative to be a lie at its core:
1) Pfizer needed massive staff to process adverse event reports
Several months ago, the FDA released a Pfizer document on adverse events revealing that there were 42,086 adverse events voluntarily reported to the company, of which 1,223 were fatalities, just as of Feb. 28, 2021. A new unredacted copy of that document, which details nine pages of several thousand known categories of adverse effects, reveals the massive scope of injuries that were being reported to Pfizer and raises questions about what company personnel knew, when they knew it, and what they observed in the ensuing months.
In the document, Pfizer reveals that "due to the large numbers of spontaneous adverse event reports," staff were forced to prioritize "the processing of serious adverse events" and the company had to hire large numbers of staff. "To date, Pfizer has onboarded approximately 600 additional fulltime employees (FTEs)," reveals Pfizer on page six of the confidential document. "More are joining each month with an expected total of more than 1,800 additional resources by the end of June 2021."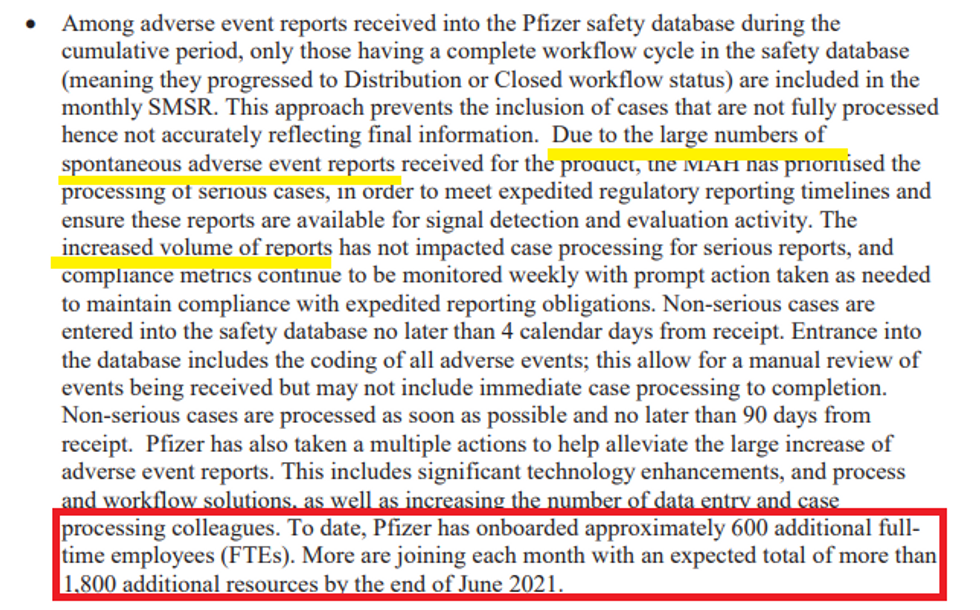 Read this paragraph and ask yourself how many people would have taken the shot had they known this and how the failure to disclose this information is in line with the Nuremberg Code. Also, what is the epilogue of the story? What did Pfizer discover in the ensuing months – to this very day – that it is not disclosing to the public?
2) Rate of myocarditis
When it became apparent to the public earlier in 2021 that myocarditis was a known side effect of the shots, the government and the media immediately claimed the incidence rate was exceedingly low. Numerous "studies" tried to downplay the risks. One paper from Kaiser Permanente in JAMA suggested the rate was just 6.6 per million. Another JAMA study from last June found a 1 in 50,000 rate among the military (which we now know was woefully underreported). Well, thanks to ICAN's FOIA, we now have the Pfizer informed consent document (p. 5) that shows the company recognized the risk can be as high as 1 in 1,000.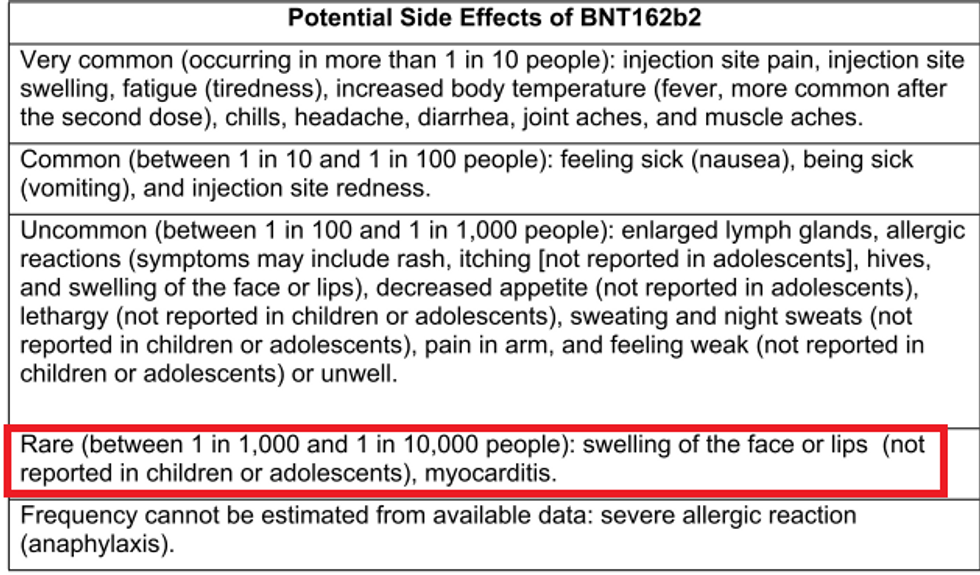 So, all of these stories suggesting that young males were more at risk for myocarditis from the virus than from the shots were bogus, and Pfizer knew it. And again, if this is the degree the company is willing to concede, imagine what the true incidence rate is.
Also, what is the degree of subclinical myocarditis? If we know about this many cases shortly after the injection, who's to say there isn't another cohort of people with heart damage that has remained subclinical so far but could come to fruition several months later? Remember, with many fewer vaccines administered in 2022, the rate of myocarditis reports to VAERS is averaging 245% higher than last year.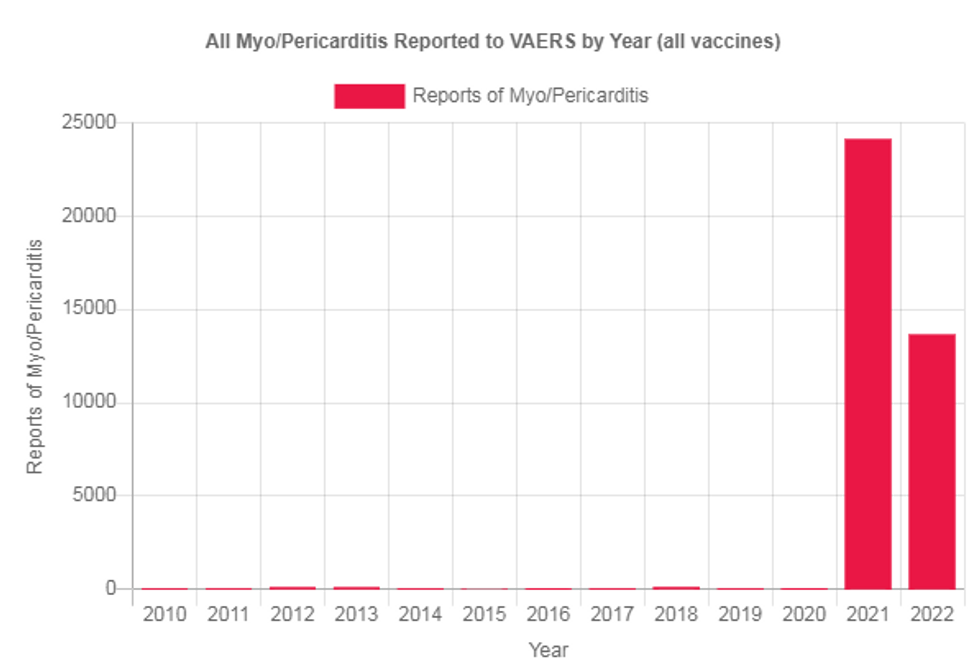 Is this the glimpse into the long-term effects of those who originally had subclinical myocarditis last year, and is this one of the reasons why so many athletes continue to drop?
The FDA has made it clear that it is flying blind on subclinical myocarditis and long-term heart damage. In the Pharmacovigilance Plan Review Addendum for Comirnaty, the FDA conceded (p. 3-4), "Incidence of subclinical myocarditis and potential long-term sequelae following COMIRNATY are unknown." However, they did note that a previous study on a smallpox vaccine "suggested an incidence of possible subclinical myocarditis (based on cardiac troponin T elevations) 60-times higher than the incidence rate of overt clinical myocarditis." That would bring down the 1 in 1,000 rate among young males to as low as 1 in 17 for subclinical ticking time bombs!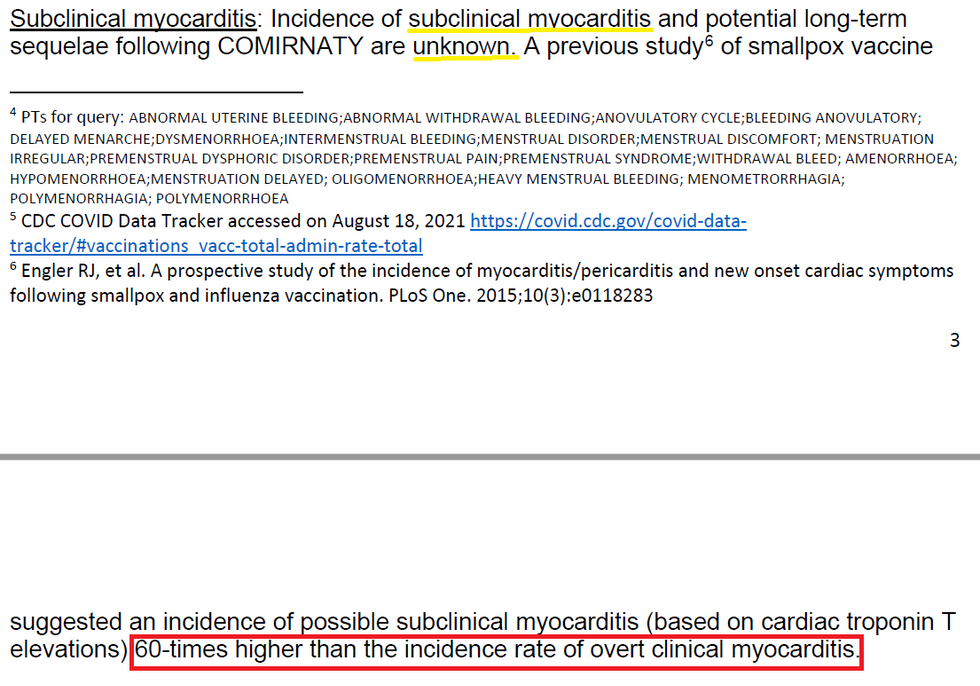 Why has the government not studied troponin levels of those who got the shot? Why has it not conducted cardiac MRIs to check for scarring? Why are we flying blind over a year into the known myocarditis problems?
The FDA reviewers flatly stated, "Based on review of available data, there are known risks for myocarditis and pericarditis and an unexpected serious risk for subclinical myocarditis, which warrant PMR safety studies to assess these serious risks." They called on Comirnaty (PfizerBionTech) to conduct studies, but noted that the sponsor rebuffed them. Seven and a half months after their full approval, we still have no studies, and they are due to be complete July 2023!
So looking at the Clinical Study, here is the description.\nThe study is not due to be completed until July 2023.pic.twitter.com/C16sAjzc9X

— Jean Rees (@Jean Rees) 1648394844
3) Pfizer knew about natural immunity
Pfizer never studied the efficacy of the shots exclusively among those with prior infection. Bizarrely, a new document reveals researchers studied them together; however, they break down the results in a way that reveals no need for the shots among those with prior infection. Here is the money quote from p. 12 of Pfizer's "request for priority review" in May 2021:
Among participants without evidence of SARS-CoV-2 infection before and during the vaccination regimen (evaluable efficacy population), the estimated VE against FDA-defined severe COVID-19 (protocol definition) occurring at least 7 days after Dose 2 was 95.3% (2-sided 95% CI: 71.0%, 99.9%), with 1 and 21 cases in the BNT162b2 and placebo groups, respectively. Similarly, the estimated VE was also 95.3% (2-sided 95% CI: 70.9%, 99.9%) among participants with or without evidence of SARS-CoV-2 infection, also with 1 and 21 cases in the BNT162b2 and placebo groups, respectively.
Pfizer claims efficacy against severe illness among those who took the shot vs. the placebo group among those without prior infection. Researchers report one case in the trial group and 21 in the placebo group. Then they mix together results of those with and without prior infection, and yet the numbers remain the same at 1 and 21 respectively! That means that among those with prior infection, there were zero cases of serious reinfection in both the trial and placebo groups. They might call that 100% effective, but we can also call that 0% effective. Thus, they knew people didn't need the shot if they already had prior infection, but they promoted it anyway and still got approval.
This is just the tip of the iceberg. In the coming days, more information will come out about what Pfizer knew and when. The question is will any policies change as a result.

On a final note: At least Pfizer is being forced to release some documents. How come we don't have a single document from Moderna, which is an even stronger dose? Inquiring minds would like to know.