doble-D/Getty Images
Horowitz: Why is every state besides Florida still promoting COVID jabs even for children?
More than half the nation's governors are Republican, yet the respective departments of health (and other departments) in each of them are run by left-wingers who could easily work in California. To this day, Florida is the only state where the surgeon general who runs the health department is recommending against the COVID shots for younger people and is putting out informed consent information and warning the public about their safety in general. Where are the other red-state health departments, and why do those GOP governors continue to publicly oppose Fauci but then have their health departments promote his handiwork?

Last Friday, the Florida Department of Health sent out the following alert to the state's health care workers. What was novel about it is that rather than promoting the boosters, as the other red states do, they warned that children shouldn't get them and that all people should be provided with informed consent information about the risks.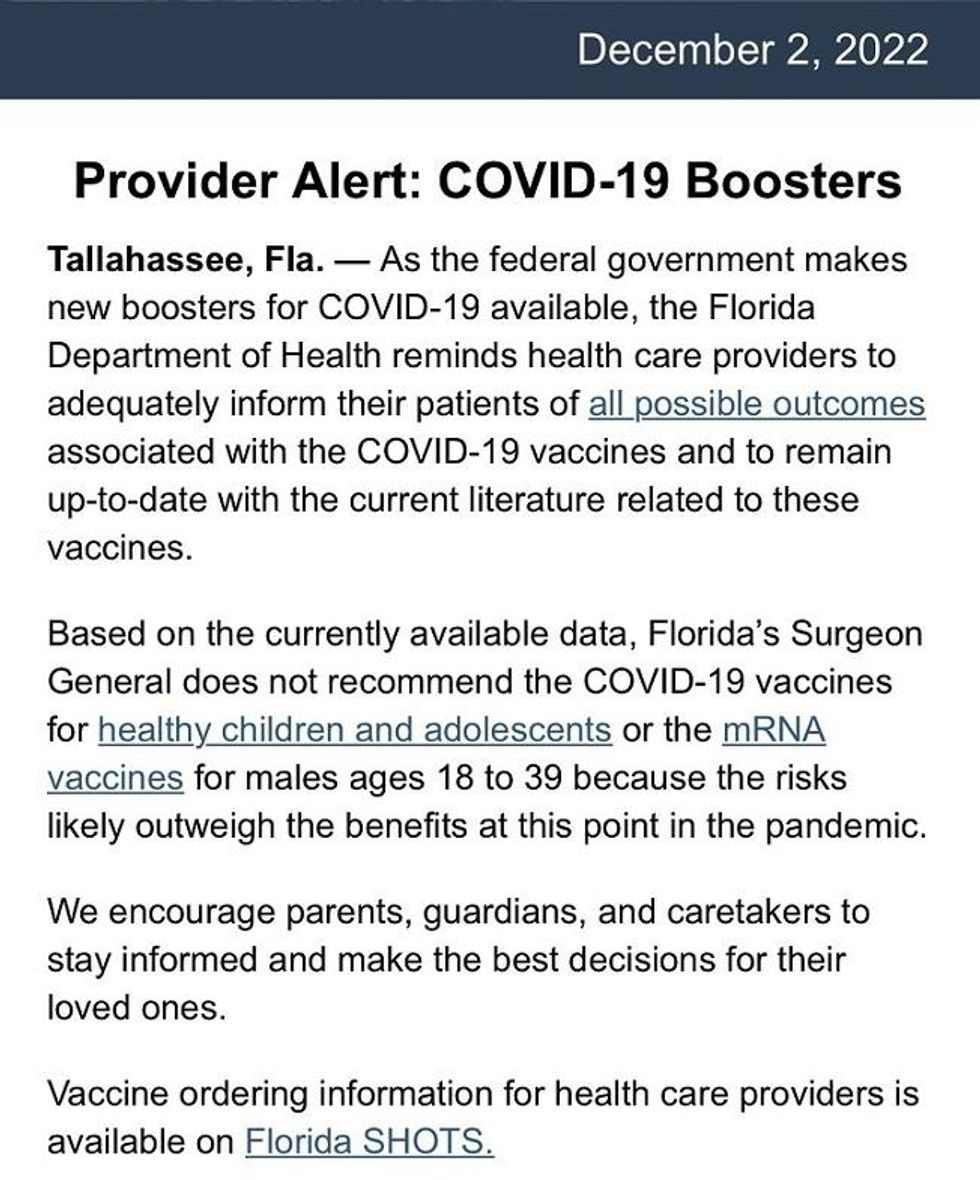 So rather than demanding that everyone remain "up to date" with the current number of boosters promoted by the feds, Florida is telling everyone to remain up to date with "the current literature related to these vaccines" so they can make an informed decision. Florida, under the direction of Dr. Joseph Ladapo, hasn't promoted the vaccines on social media in over a year, yet it's hard to find another red state that has changed even to this day.
To this day, the Texas Department of Health is still promoting the vaccines on social media.
Even for children!
Idaho's health department is still promoting vaccines as "the best defense in the prevention of influenza and COVID 19." On the website of the South Dakota department of health, the first video under the vaccination tab is a nurse promoting the shots for pregnant women, which have proven dangerous beyond belief. They are also advertising the shots for children as young as 6 months old.
Ditto for Indiana.
Even Montana and Wyoming are linking to the CDC's recommendation for COVID shots for kids as part of the childhood immunization schedule. Why would these states still post anything from the CDC on COVID?
Whereas most red-state departments of health promote the boosters prominently on their websites, the Florida Department of Health promotes information on how to get out of employer mandates and ensure that employers are in compliance with the law.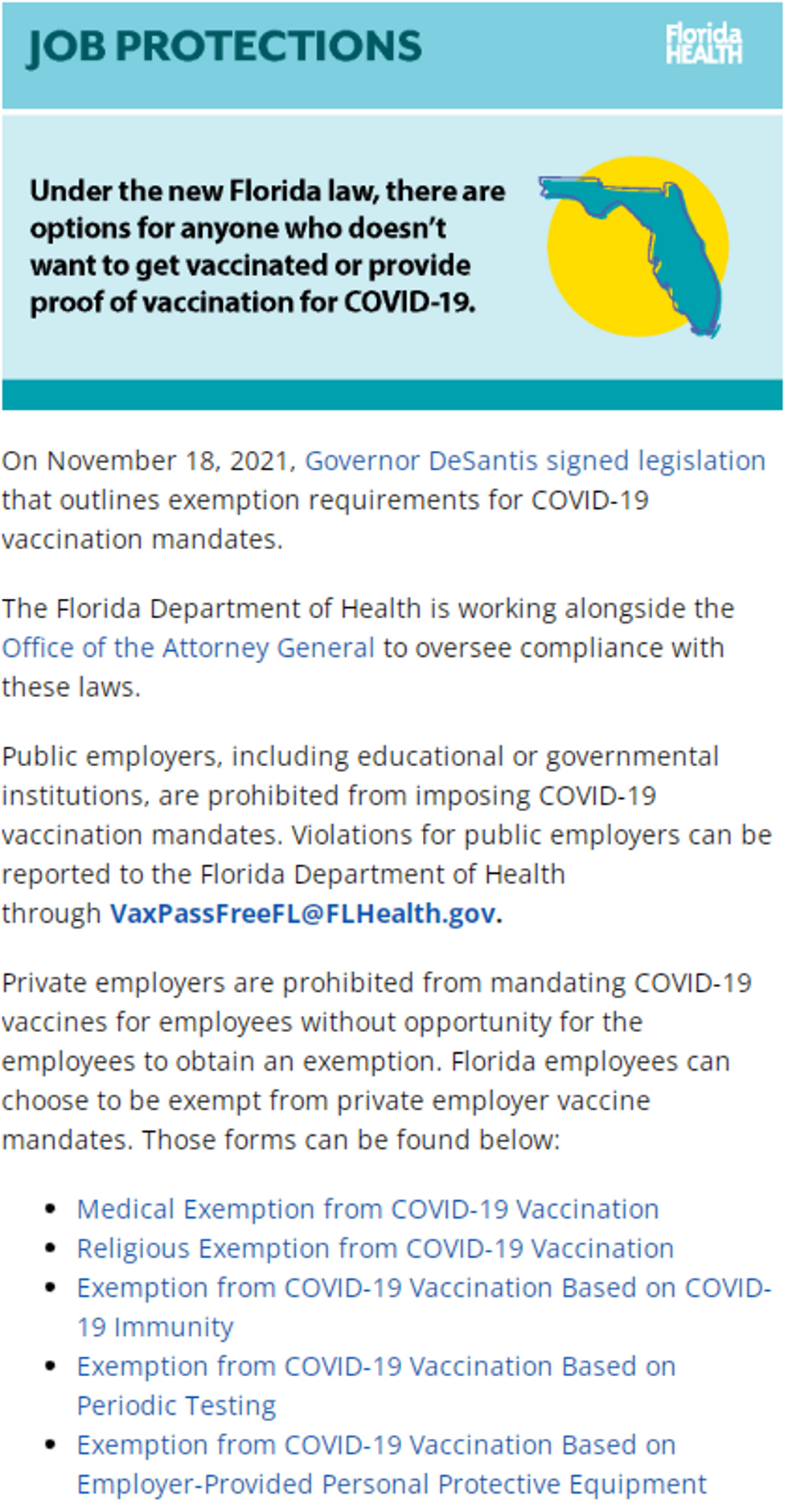 Oklahoma's health department is still promoting boosters:
Meanwhile, Governor DeSantis has vowed to work on holding the vaccine companies accountable for lying and causing injury. And his surgeon general continues to put out information warning about the side effects of these shots.
How come the Twitter feed of every red-state health director doesn't look like this? How come not a single other red-state health department has even stopped promoting the shots for children, much less recommended against them? A new study published in BMJ's Journal of Ethics found that to avoid one young adult hospitalization from COVID, you would have to vaccinate between 31K and 42K people. But by doing so, you would create at least 18 significant vaccine injuries and as many as 4,626 grade 3 or greater reactions. And these are very low estimates based on the manufacturers' own clinical data, which has proven to be fraudulent.
So why are the non-Florida red-state health departments continuing to promote the shots? Instead, they should be using their endless flow of COVID cash to investigate the sudden deaths with pathology reports. Recently, pathologists at Heidelberg University conducted autopsies on 35 individuals who died shortly after vaccination. Their findings, published in Clinical Research in Cardiology, showed that five individuals likely died from heart injury from the shots and 20 of the others were inconclusive, often due to preexisting heart conditions that could have been exacerbated by the shots. Our own CDC has refused to study this despite all of the safety signals and despite all the taxpayer funding the agency has received over the past few years. Red states must pick up the slack.
Not only do the other red states lag behind Florida with the shots, but they are still punishing doctors and business owners for violating lockdowns and mask mandates. The Texas medical board is threatening the license of East Texas ENT Dr. Eric Hensen for not wearing a mask. This man treated countless COVID victims who weren't even his patients, yet rather than winning a medal, he is punished for not wearing something that is all pain and no gain.

In Virginia, Fredericksburg restaurant owner Matt Strickland had his Gourmeltz shop raided by the Virginia Alcoholic Beverage Control Authority this week for allegedly serving alcohol after his license was suspended. But his license was only suspended last month on account of having defied former Governor Ralph Northam's social distancing orders, which were unconstitutional, illogical, and immoral. Glenn Youngkin has been governor for nearly a year, and there is a GOP attorney general. Why has he not used his power to dismiss the five-member board of the ABC for cause? Thankfully, after much pressure from conservatives, Youngkin issued an order to report all enforcement of COVID-related punishments. Other governors need to feel the heat during the upcoming legislative sessions.
Why are orders like this still being carried out by an executive branch controlled by Republican governors in other states? Why aren't all of these "offenses" pardoned? Why have these states not apologized for implementing these policies in the first place? U.K. data shows that one-quarter of teenagers who lived through this social distancing dystopia now have mental health problems. One would think these red states would run away from these issues and raid the homes of those who pushed these genocidal policies, not the civil rights heroes who followed our patriotic tradition of nonviolent disobedience against immoral orders.
Many of these red-state governors like to claim that they had nothing to do with the Fauci COVID regime, but to this day their health departments are indistinguishable from the NIH and the CDC. If they refuse to drain their own swamps in red states, how on earth are we going to restore medical freedom and pro-life protections against medical experimentation at the federal level?