Joe Raedle/Getty Images
Horowitz: The monkeypox vaccines are openly unproven with major safety problems, but that's the new normal
We swore we wouldn't do it again. But while the COVID vaccination drive is still "evolving like an iphone" full of injuries, the establishment has already jabbed thousands with monkeypox vaccines that the CDC admits have problems and are unproven. A sudden unprecedented spread of a pathogen and a mysterious pre-prepared response with vaccines? Hmmm … where have we seen this rodeo before?
Let's put aside the peculiarity that officials approved a vaccine for monkeypox out of nowhere in 2019, Bill Gates warned about a smallpox outbreak last year, they held a tabletop simulation of a monkeypox outbreak in March 2021 presupposing an outbreak in May 2022 (exactly on target), the Wuhan lab seemed to engage in gain-of-function research on monkeypox fairly recently, and a few months later the FDA approved a drug for smallpox, which in itself raises many questions. Americans are somewhat familiar with the main COVID vaccines on the market, but what about the two monkeypox vaccines being administered?
A dangerous shot on the market for two decades and going
The less-used vaccine is the live-virus smallpox shot, ACAM2000. The Strategic National Stockpile ordered 100 million doses in the aftermath of the anthrax attacks, and it was fully licensed in 2007. It is presumed to have efficacy for monkeypox, but there is neither evidence nor randomized controlled trials showing that it works for this particular wave of monkeypox. What is shocking, however, is that in plain sight, the CDC conceded in its own recommendation report published June 3 that ACAM has an appalling level of risk for myocarditis.
Primary vaccination with ACAM2000 is contraindicated in persons with the following conditions: serious allergy to a vaccine component, history of atopic dermatitis or other exfoliative skin condition,**** an immunocompromising condition (e.g., due to a disease or therapeutics),†††† pregnancy, breastfeeding, and known underlying heart disease (e.g., coronary artery disease or cardiomyopathy).
Oh, so you mean not everything with the label "vaccine" is a gift from God worthy of dehumanizing people over its use and denying them basic rights? That's a heck of a lot of people. But what sort of heart problems? Earlier on, they blithely toss in this nugget: "Because ACAM2000 is replication-competent, there is a risk for serious adverse events (e.g., progressive vaccinia and eczema vaccinatum) with it; myopericarditis also occurs with ACAM2000 (estimated rate of 5.7 per 1,000 primary vaccinees based on clinical trial data), but the underlying mechanism is unknown (7,8)."
Say again?! 5.7 per 1,000 people is a rate of 1 in 175 people! That's a huge percentage, and it demonstrates it's not just a problem for people with pre-existing heart conditions but for anyone. Here is an interview Fauci gave in 2003 about the smallpox vaccine, something that probably shatters the image so many people had about it.
He was discussing Dick Cheney's idea to pre-emptively vaccinate everyone against smallpox out of the contrived fear that al Qaeda would somehow release it. He divulged shocking information.
Since smallpox, as effective a vaccine as it is, has some rare but nonetheless potentially very serious toxic side effects — if you're immunosuppressed, it could be deadly, if you're one of those people who have this strange myocarditis associated with it. … If you all of a sudden vaccinated the whole country again, you would wind up — given the unlikelihood that you're going to have a bioterror smallpox attack that would not allow you to then vaccinate around the people who were infected — I think the weight of the waiting, getting a stockpile, is infinitely better than just feeling better about vaccinating everybody. And I presented it in a very articulate, simple way. The vice president is a very smart guy, you know. He got it, and Scooter got it, and Carol got it. So then we decided that we would not globally vaccinate the entire country.
He added: "And by the way, the country would not have accepted being vaccinated. So we knew that; it was sort of like a failsafe, and I said, 'Mr. Vice President, by the way, even when you're offering it to the first responders, many of them didn't want to take it.' So this idea about kind of saying everybody should take it, it didn't make any sense. So he listened to the data; he listened to the data."
And then our government did this exact same thing in real life with COVID, to the point that officials are now demanding everyone get shots every few months, including children, to even attend school in some cities.
The ACAM shot is so dangerous that even Johns Hopkins researchers recently called for a full review of the shot and also warned that it could spread to other people in a household of recipients. How could something like this even be on the market with 100 million doses in supply, and what does it tell us about the safety standard of the vaccine enterprise in general?

Back to the current recommendations on monkeypox, the CDC adds the following tidbit on ACAM2000 and the COVID shots: "Because of the documented risk for myocarditis after receipt of both ACAM2000 and mRNA COVID-19 vaccines (12) and the unknown risk for myocarditis after JYNNEOS, persons might consider waiting 4 weeks after orthopoxvirus vaccination (either JYNNEOS or ACAM2000) before receiving an mRNA COVID-19 vaccine, particularly adolescent or young adult males."
So, the myocarditis risk from the COVID shots is bad enough that they mention it in relation to the monkeypox vaccine, but as a stand-alone it can be mandated with the threat of losing medical care or your livelihood?
A rushed, unproven, and dangerous shot given full licensure. Why and to what end?
The more common vaccine they are using now is the one they magically approved with full licensure in 2019 specifically for monkeypox – the JYNNEOS vaccine – which is a based on a live virus but supposedly not replication-competent in humans. Well, guess what? As the CDC admitted, there are no studies on myocarditis. You know why? Because just like the new COVID kids' shots and variant shot, which are being approved based on simple antibody levels, JYNNEOS was approved without any clinical trials, just based on immune-bridging! Full approval – not just EUA.
So, don't get hung up exclusively on the EUA being the public policy problem; the FDA and the CDC are the problem, because they are now at a point where they will fully approve something without fulfilling the obligations of the Nuremberg Code.
Let's return to the same June FDA/CDC recommendation document:
So, they are saying they replaced ACAM, which was too dangerous to be used widespread, with JYNNEOS, a new vaccine for which they have "low certainty" that it causes "fewer serious adverse events" and "fewer events of myopericarditis" than the appalling levels of ACAM2000? In the next paragraph, they describe JYNNEOS boosters and divulge they have a "very low" level of certainty about their rate of myocarditis. Yet they approved it unanimously without question. Do the American people even know about this and do they realize officials and manufacturers are all immune to liability?
It gets worse. On the actual FDA label of the JYNNEOS vaccine (p. 6), it reveals that 1.2% of all recipients in a trial experienced "cardiac adverse events of special interest"! The number was as high as 2.1% for those who already had the smallpox vaccine at some time in their lives.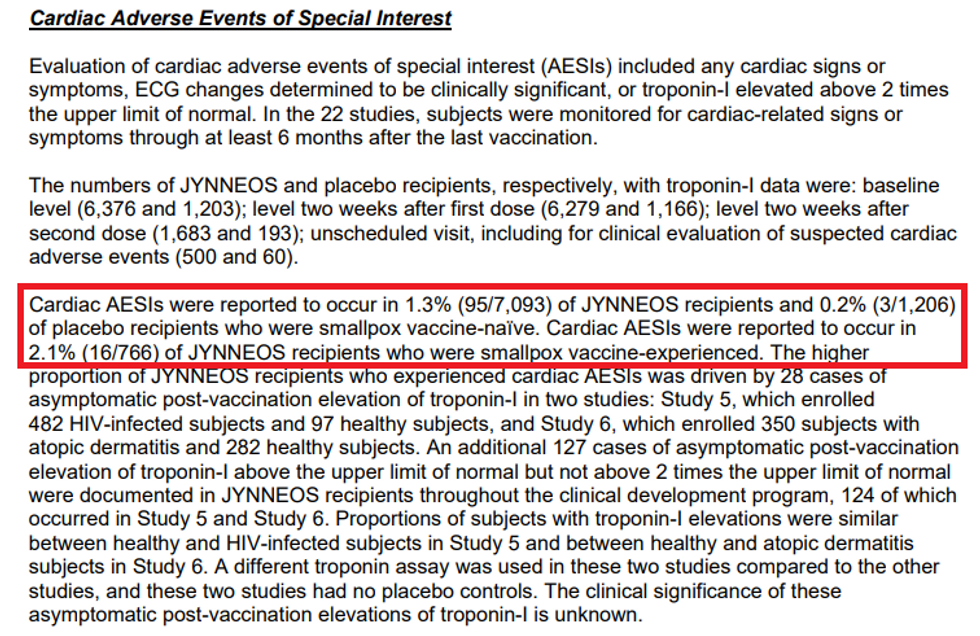 That number is outlandish, yet it still might be "lower" than the ACAM2000 shot!
Furthermore, as Dr. Meryl Nass observed, in the FDA review document (p. 162), it reveals that other studies not included on the licensing label revealed that between 11% and 18% of participants experienced increased troponin levels, a possible sign of heart damage. Also, on p. 191, it shows that side effects were so common that 8% of those participants who were HIV positive could not get their second JYNNEOS shot due to side effects from the first dose.
Furthermore, just like with the COVID shots, animal trials performed by Bavarian Nordic showed that the JYNNEOS shot did not prevent transmission even at peak immunity. We all know that non-sterilizing vaccines run the risk of negative efficacy and viral immune escape.
Still, all 9,000 monkeypox vaccination appointments in NYC were filled within two hours. How many of them have been informed of any of these risks?
Of course, the label states plainly, "Safety and effectiveness of JYNNEOS have not been established in individuals less than 18 years of age." Yet it has now been approved on an emergency basis for kids! Meanwhile, HHS released 442,000 more doses of JYNNEOS to states.
Do we even know what this vaccine is capable of doing? Remember, Fauci himself once told Mark Zuckerberg that you have to be careful to make sure you are not spreading the actual pathogen with the vaccine and that is why you need a large trial. The WHO is admitting that everyone using them is essentially a part of a clinical trial, in violation of the Nuremberg Code.
\u201cIt is experimental!!\nWHO-Warns anyone who receives a MonkeyPox jab is considered to be part of a clinical trial for data collection so they can learn more about the effectiveness.\n\nWHO also reaffirms \u201cMen who have sex with Men\u201d are the most at-risk.\u201d

— PXP Security & Inves (@PXP Security & Inves) 1658660892
Why would they foist these vaccines upon society and risk viral immune escape when there is an obvious solution of simply 15 days of no orgies to flatten the curve? And why would they have rushed to fully approve a vaccine without proper trials in 2019 when there was no emergency or even trace of a monkeypox pandemic? And how was it fully approved with the label reading as follows: "JYNNEOS has not been evaluated for carcinogenic or mutagenic potential, or for impairment of male fertility in animals."
The fact that we are replaying the scene of the COVID horror movie with the next pathogen and vaccine before the old one is even over with demonstrates that our political system still has not internalized the Great Reset.