pavlo gonchar/Getty Images
Horowitz: The FDA is now willingly approving dangerous, ineffective shots even after pandemic
Some of us were concerned that the government would cover up the deaths from the COVID shots and try to move on to the next marketing opportunity (e.g. RSV shots) without any accountability or reckoning. In fact, the GOP opposition to the shots has been so muted and lame that not only has the FDA escaped punishment for approving them, but the agency has now approved new COVID shots in broad daylight … without any human clinical trials! In fact, the agency didn't even conduct animal trials on eight blind mice, as they did with the Omicron booster!

The more you inject, the more you infect
Let's forget the fact that the current iteration of COVID is nothing more than a cold and that all those who didn't have their immune systems destroyed by endless boosters are now immune to serious illness from coronavirus. Thus there is no ethical rationale for even dabbling with an experimental shot, much less one that has already killed and injured millions. However, the shot that the FDA and CDC just approved makes it more likely that you will actually get COVID, and this is well known by our government, based on the last previous rounds of variant-chasing products from Pfizer and Moderna.
Anyone in the vaccinology and immunology business is well aware of the concept of immune imprinting, which creates original antigenic sin. When a therapeutic obsessively trains the body to respond to one version of a pathogen, it causes the body to respond inappropriately against different versions of it. We saw this throughout Omicron as the shots yielded negative efficacy against COVID throughout late 2021 and 2022, even for people who already had COVID.
In fact, a recent Qatari study published in top medical journal Lancet shows the negative efficacy in plain sight. Using a massive sample of testing and vaccination records covering the period from July 2020 through November 2022, the authors found that "effectiveness remained negligible in subsequent months and was notably negative during the BA.4/BA.5 wave in June and July 2022."
Like Sherlock Holmes, they discover what we all have known about mismatched respiratory viral vaccines: "Some of the vaccine effectiveness measures post Omicron introduction, particularly for booster vaccination, were negative in value, perhaps suggesting negative immune imprinting. This effect was pronounced during the BA.4/BA.5 wave. This finding supports similar recent findings in this same population.10,52 Such imprinting effects have been observed for other infections such as influenza."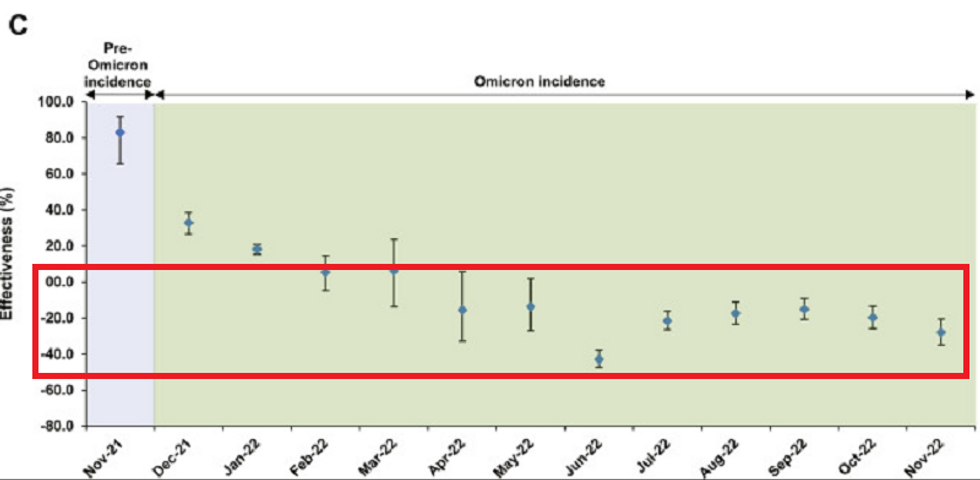 As you can see, the vaccine achieved negative 40% "efficacy" at some points in 2022.
The beauty of "the more you inject, the more you infect" is that it is a stratagem to create even more vulnerability to both COVID and other seasonal respiratory viruses. This in turn sows more fear and, not surprisingly, creates a self-perpetuating market for even more boosters!
Thus, last year, the FDA approved the BA.4 and BA.5 "bivalent boosters" in an attempt to dig out of the original negative efficacy in Omicron. Guess what? Even the New York Times admits that last year's booster didn't work because it created immune imprinting.
Unlike the bivalent shots from last fall, the latest mRNA vaccines developed by Pfizer and Moderna are monovalent, meaning they are designed to protect against just one variant: XBB.1.5… Initial data from preprint studies has suggested that the bivalent formula from last year was no more effective against BA.4 and BA.5 than the original vaccine it replaced because of so-called "immune imprinting" bias.
"Our immune system, when we have seen something, is biased to seeing that again," Dr. Ho said. "So if you include the original components, the immune system will react mostly to the original component and not to the new version of the virus."
So here we are with round three of variant-chasing boosters promising a different result. The FDA is attempting to claim the this will rectify the problem by only using a monovalent booster for XBB.1.5. The problem with that is that the variant is almost completely extinct before the shots get out the door. So once again, the spike protein serum will train the body to respond improperly to new variants. The manufacturers claim that the antibodies work against the new "Eris" variant as well, but they said the same thing last time with BA.5 and got away with producing no human clinical trials. Now they don't even have to produce animal trials, just lab testing of antibody titers in mice, a method that has long proven to be worthless in protection against infection, replication, or spread of this virus. The negative efficacy of the past two years stands as a testament to this insanity of repeating the same Pfizer/Moderna malfeasance.
The negative efficacy has gotten so bad that Walgreens stopped reporting positive tests by vaccination status because many of us were using the pharmacy's data in 2021 and 2022.
Now, the FDA is giving full licensure for these new shots to those over 12 and emergency use for those over 6 months! There is nobody alive who could tell you with a straight face that:
These variants pose an emergency-level health danger to anyone.
The shots are effective.
The shots are fully tested.
The shots are safe.
What's a little heart scarring and autoimmune disease between friends?
This violation of the Nuremberg and Helsinki protocols would be bad enough if the worst effect of the shots was to make you more vulnerable to COVID and respiratory viruses. But as we well know, they potentially harm every organ system in the body. Shockingly, the FDA printed on the label a callous admission of the risk of myocarditis but coldly dismissed the consequences. "Although some cases required intensive care support, available data from short-term follow-up suggest that most individuals have had resolution of symptoms with conservative management. Information is not yet available about potential long-term sequelae."
In other words, now that they can no longer say myocarditis is "mild," they contend that the serious damage it causes is only short-term. The reality is that no scarring on the heart can be assumed to be transient. In fact, a recent Hong Kong study published in the American Heart Association's journal Circulation found, in a sample of 40 victims of vaccine-induced myocarditis, evidence of long-term heart damage 10-12 months later. The authors warn people with these long-term markers that "indicators of subclinical myocardial dysfunction and fibrosis" could induce "a long-term effect on exercise capacity and cardiac functional reserve during stress."
We also know that at the time of the first variant booster push in 2022, Pfizer was aware of almost 127,000 case reports of cardiac disorders, running the gamut of about 270 categories of heart damage, including many rare disorders, in addition to myocarditis.

So, we are now at a point when the government can openly admit the shot causes ubiquitous injury, can eliminate all pharmacovigilance to monitor injury, but push even new shots that don't work out of the gate for a simple cold. We are even at a point when the VA is now telling its union employees that they are eligible for compensation if they were injured by the shot and missed work time.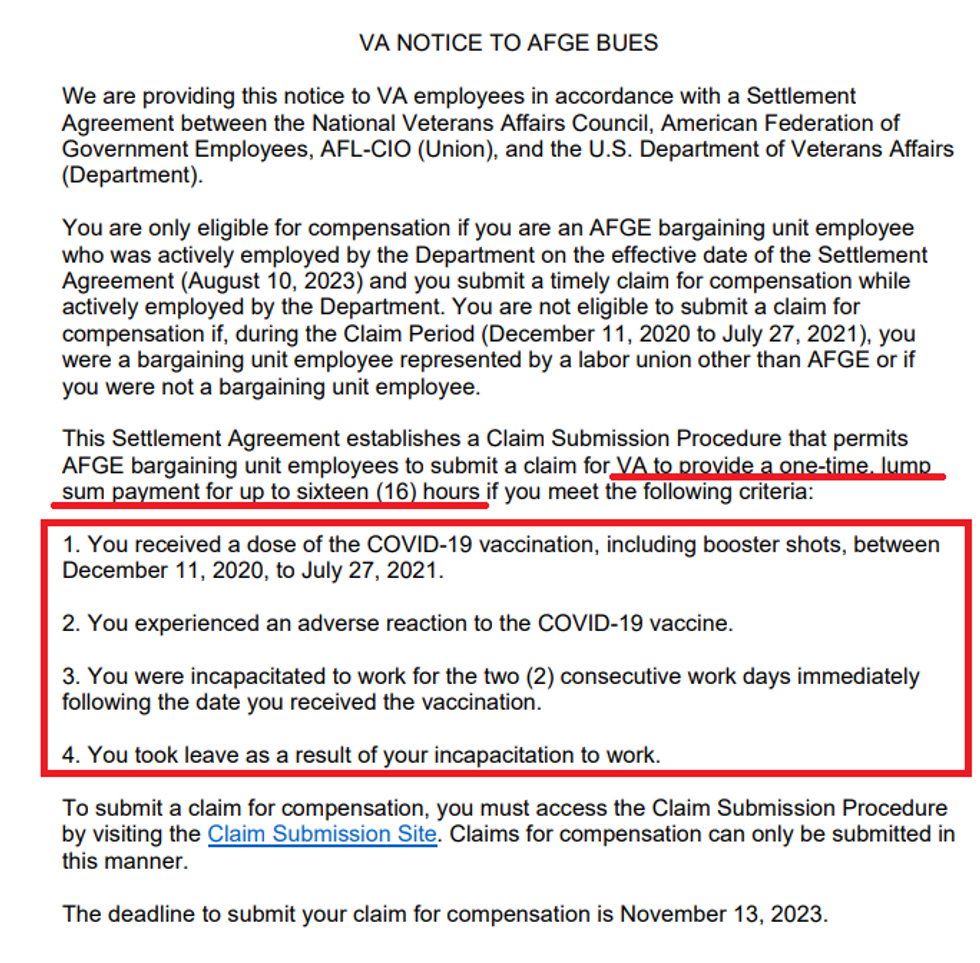 Remember all those worker shortages over the past two years in almost every industry? This is a clear admission that the government was aware of the epidemic of "sudden illness." Indeed, a new German study published in Public Health monitored the rate of medical absence of health care workers who received the jabs. Among 1,704 health care workers enrolled, a whopping 35% had to take sick leave following at least one COVID-19 vaccination, leading to a total number of 1,550 sick days. "Both the absolute sick days and the rate of HCWs on sick leave significantly increased with each subsequent vaccination," observed the authors. They also revealed that the Moderna shot "induced a significantly longer and more frequent sick leave" after the third dose, which is not surprising because it is a higher dose than Pfizer.
For the love of God and his prized creation, what it is going to take to pull these shots off the market? We used to yank approval for therapeutics after a few suspected deaths or one known serious side effect linked to the new product. Now we have roughly 62% of the 24,289 Preferred Term MedDRA codes, which essentially account for the realm of possible medical diagnoses, linked to the COVID shots in VAERS. What additional information must come to light before Republicans do the right thing and defund these shots?
Among all the lies the FDA has told about the shots, there is one kernel of truth expressed in its
announcement
: "Individuals who receive an updated mRNA COVID-19 vaccine may experience similar side effects as those reported by individuals who previously received mRNA COVID-19 vaccine." It's just that for some, the level of death and injury seen from the previous shots is just another day in medicine.