Matt Hunt/Getty Images
Horowitz: Not a single vaccine injury compensated by US government, even as other countries begin payouts
What do you call a governmental system that partners with, funds, markets, distributes, and mandates a private biological product and then absolves government officials and the partner company of all liability for death and illness? It sure is not freedom.
To ignore the sheer magnitude of vaccine injury and death at this point is gross insouciance, and to cover it up is willful misinformation. The only question remaining is the exact scope. But even a small percentage of the injuries, given that most adults throughout the country got at least 2-3 jabs, would be a large number of people injured. Even with the underreporting factor, there are over 1.3 million injuries and nearly 30,000 deaths reported to VAERS, including over 170,000 hospitalizations and 200,000 doctor's visits. There are over 50,000 reports of myocarditis/pericarditis and over 55,000 reports of permanent disabilities.
After the government has spent over $10 trillion dollars in fiscal and monetary spending on COVID, including hundreds of billions lining the pockets of Big Pharma and hospital chains, compensating the citizenry – including those forced to get the jab – for vaccine injury is one thing on which they have failed to spend a penny. Meanwhile, many other countries have already begun paying out compensation for injuries. Japan, Taiwan, Canada, the U.K., and Thailand have all initiated some sort of compensation scheme. Even Australia plans to pay something to at least 79,000 individuals. Yet America, the home of Pfizer, remains silent on this front.
The culprit for this is a 2005 bill whose repeal must be the lead campaign promise of Republicans.
In the frenetic desire to protect against a bio-terror attack in the wake of 9/11, Congress passed the Public Readiness and Emergency Preparedness Act in 2005, which absolved the entire health care industry and the government from any liability for damages in the event of a public health emergency. So while the 1986 bill exempted all of the manufacturers of childhood vaccines from liability, the PREP Act, if invoked during a declared emergency, as it was in February 2020, exempts every therapeutic or treatment (or lack of treatment) from any maker, administrator, provider, or government entity of all liability from death and injury. As Rep. Thomas Massie recently warned, we are living under "medical malpractice martial law."
Here is just a sense of how broad the PREP Act is, as codified in 42 U.S.C. 247d-6d: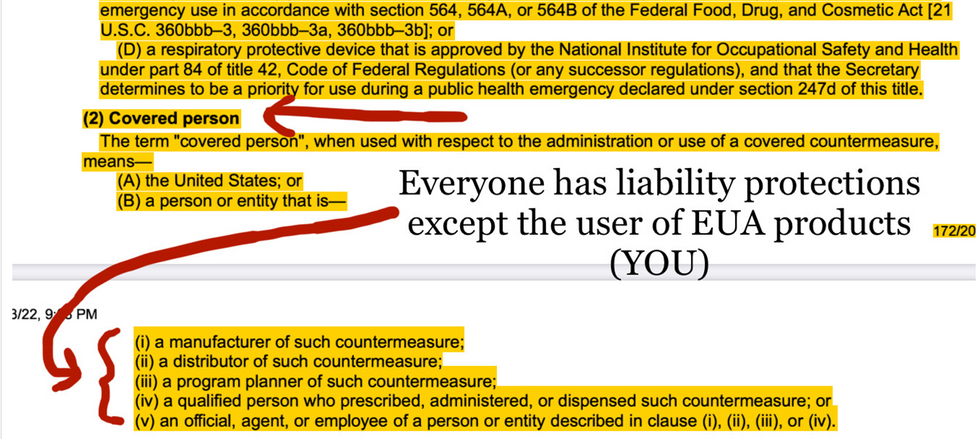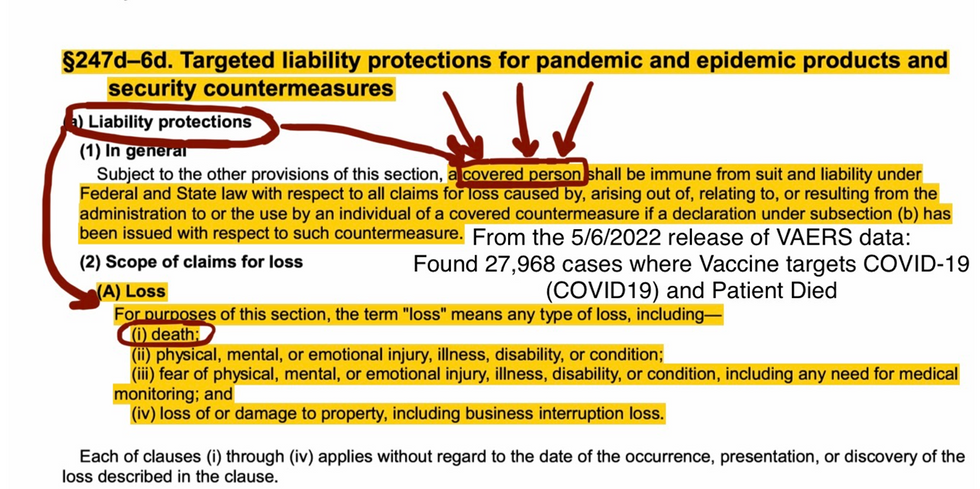 In other words, a qualified "person" is everyone in the public or private sector with almost no exception. Thus, there is quite literally nobody who can be held accountable for causing harm to the individual or society – up to and including death. The PREP Act also overrrides all state tort laws, which is likely unconstitutional.
Now this would be bad enough if govenrment merely allowed private companies to manufacture products or offer treatments during a pandemic and granted them immunity. However, our government not only marketed and funded them but actually mandated them in many respects. To be fair, the statute is quite clear that emergency use products cannot be mandated: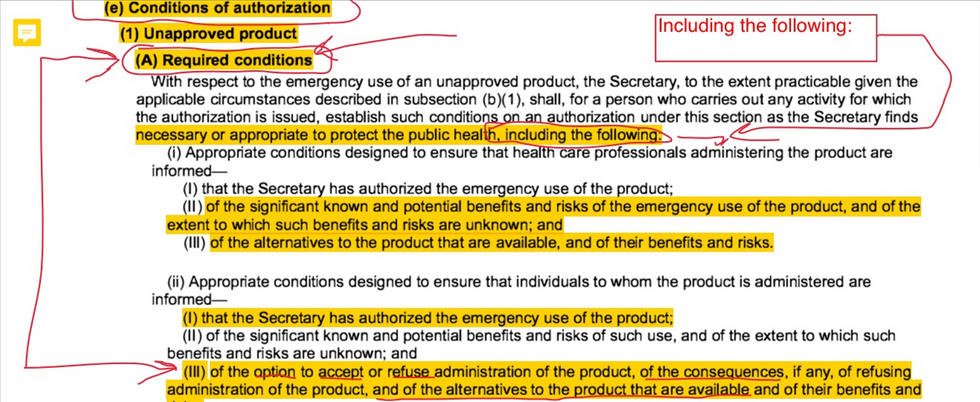 However, given that the court system dogmatically adheres to the liability exemption part of the statute but not to the anti-mandate part, it is quite clear that the PREP Act needs to be gutted wholesale.
Also, putting the law aside, how can our government drop over $60 billion for Ukrainians but not pay for Americans injured by a shot the government promoted and shamed people into getting, if not mandated? As of last month, not a single American had been awarded any compensation for damages from the COVID shots, according to the Health Resources and Service Administration. That is simply astounding given that even CDC researchers admitted in JAMA that the tens of thousands of myocarditis claims in VAERS are "more likely" underreported relative to the true scope of heart injury in the general population than overreported.
How is it that we have gone two and a half years under this form of martial law and Republicans haven't even made the PREP Act a campaign issue, even as the federal government is on the cusp of declaring a second public health emergency for monkeypox?
Imagine being someone injured by the shots. Doctors are too scared to diagnose the injury, all medical literature on diagnosis, detection, and treatment has been censored, and insurance companies often won't cover any expensive diagnostics (such as cardiac MRIs) or treatment because by definition it's all off label. There are millions of people who are on their own, and none of us hear a cavalry of GOP congressional candidates running on this issue.
The issue of liability is not even about collecting millions for those injured. It's about judicial discovery serving as a deterrent against bad products. As World Bank President David Malpass recently said, "Pfizer has been hesitant to go into some of the countries because they don't have a liability shield." That should scare everyone. What did Pfizer know and when? While the PREP Act still allows for lawsuits alleging willful misconduct, it is an extremely difficult legal standard to clear. Here is how the Congressional Research Service describes that arduous process:
The process by which injured persons (or their representatives) may prove willful misconduct under the PREP Act is limited in several ways. Before filing a lawsuit claiming willful misconduct, injured persons must first seek compensation through CICP (see below), and they cannot sue if they elect to receive that compensation. If they choose to file a lawsuit, injured persons may sue only in the U.S. District Court for the District of Columbia. Such lawsuits must meet heightened standards for pleading and discovery, and are subject to procedural provisions generally favorable to defendants. Injured persons must prove willful misconduct by clear and convincing evidence (a higher standard than in a typical civil case), and recovery for noneconomic damages such as pain and suffering is limited.
Also, the report notes that officials may rely on a defense that they "acted consistent with applicable directions, guidelines, or recommendations by the Secretary regarding the administration or use of a covered countermeasure." In other words, it's checkmate for the victims, even though we have numerous FOIAed and court-released documents that show willful misconduct from day one.
For example, a newly released document between Pfizer and the European Commission titled "Advance Purchase Agreement" reveals how Pfizer officials conceded to governments up front that they couldn't vouch for the safety of the shots. "The Participating Member State further acknowledges the long-term effects and efficacy of the Vaccine are not currently known and that there may be adverse effects of the Vaccine that are not currently known," stipulates Pfizer in the document labeled "sensitive" in November 2020. "Further, to the extent applicable, the Participating Member State acknowledges that the Vaccine shall not be serialized."
How can these countries agree to a contract that required them not only to purchase, but also "promote … as a global public good" (p.56) a product that they can't stand behind and then hide any serial numbers to track adverse reactions? Other documents also show how they sought to have all clinical trial participants report adverse events through postal mail or phone, almost as if they were trying to cover it up so there'd be no electronic trail? Track and trace for the citizenry, but not for Pfizer!
Also, a recently released Canadian document showed that Pfizer knew 100 micrograms was toxic in rats, yet failed to disclose this or even present all the data in the document. Keep in mind that three doses of Pfizer and two doses of Moderna are roughly 100 micrograms. This stuff is pretty damning, but still very hard to prove willful misconduct in court, and even if we did, Pfizer can always say it was following the government's pandemic objectives.
Again, how can government sell the bodies of human beings to private entities and not take responsibility, especially after mandating their products or at least shaming people into getting them? A lack of informed consent violates basic human rights, but the lack of consent mixed with pure immunity for those doing the coercion is evil.
We seem to understand this concept when it comes to any other industry. Just consider the fact that Democrats on the House Judiciary Committee recently passed a bill subjecting gun manufacturers to a degree of liability no other industry assumes, namely to hold them liable if a criminal shoots someone with a gun. Like every other maker of a product, gun manufacturers are 100% liable if they sell a faulty gun, but just like Toyota is not responsible if someone chooses to kill another person by vehicular homicide, gun manufacturers shouldn't be on the hook for that either.

Now contrast this to pharmaceutical companies, which can make a vaccine that causes any amount of damage to the body and never be held liable. Plus, unlike with guns, government is demanding that you get one and every "private" medical group will strongly recommend or mandate it upon their patients. Ironically, when Rep. Thomas Massie offered an amendment to pair the gun liability bill with liability for vaccine makers in the PREP Act, every Democrat voted no.
This is not hypocrisy; it's hierarchy. All guns are bad and all products marketed as vaccines are good, in their quasi-religious worldview. Imagine government embarking on the greatest campaign of all time to make everyone own a gun and get every private entity to mandate the same, and then absolve them of liability if the bullet flies out of the back of the gun and kills the user. Well, this is what they are doing for Pharma, because they are the high priests of the Great Reset agenda. Welcome to the new fascism.
For any Republican running for Congress this year, their answers to your question regarding repeal of the PREP Act is a moral and political IQ test.