FG Trade/Getty Images
Think of the number of pregnant and nursing women in the military, health care, education, and many other professions who were forced to get shots that the U.K. government admitted at the time should not have been given. The "fact checkers" are sputtering about minutiae of the timing of this document, but the reality is that the establishment pressured and even forced some pregnant and nursing women to get a shot that even they admitted at the time had no reliable data, and although they now say it's safe, the reality paints a very different picture.
Last week, Norman Fenton, professor of risk information management at Queen Mary University of London, among other U.K. researchers, posted a link to a report titled, "Summary of the Public Assessment Report for COVID-19 Vaccine Pfizer/BioNTech," in which researchers clearly recommend against vaccinating pregnant and nursing women. The report was originally posted in December 2020, but like many CDC reports, this U.K. government paper has been updated a few times, the most recent of which was Aug. 16, 2022. The money quote from the paper is as follows: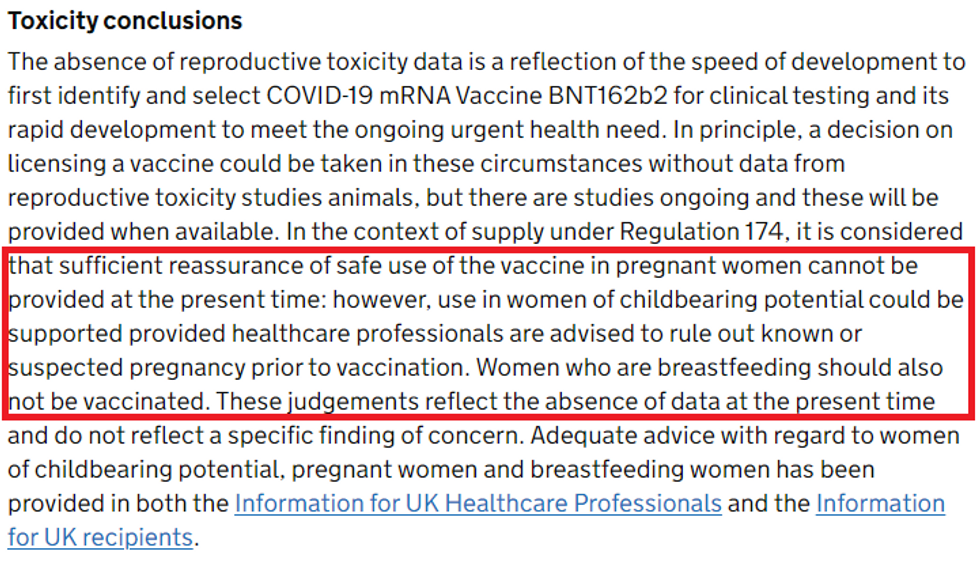 The U.K. media immediately pounced on those drawing attention to this report, asserting that it's really an old report from December 2020 and has only had minor updates since then. And of course, in the ensuing year or so, the vaccines have been proven to be pristine for everyone, including nursing and pregnant women. But the noise around the date of publication obfuscates the main point: that at the time they forced many pregnant and nursing women to get the shot, the government knew the shots were not proven safe for those cohorts. Moreover, the question remains why this document has indeed been updated many times – however minor those updates may have been – yet this paragraph has never been changed and still remains on the website, even as militaries, health care facilities, and regular doctors continue to pressure and even force pregnant women to get the shots.
In response to those drawing attention to this report, whoever runs this government website posted an updated text block clarifying that this document was from December 2020 and that the government's recommendation on vaccination has not changed.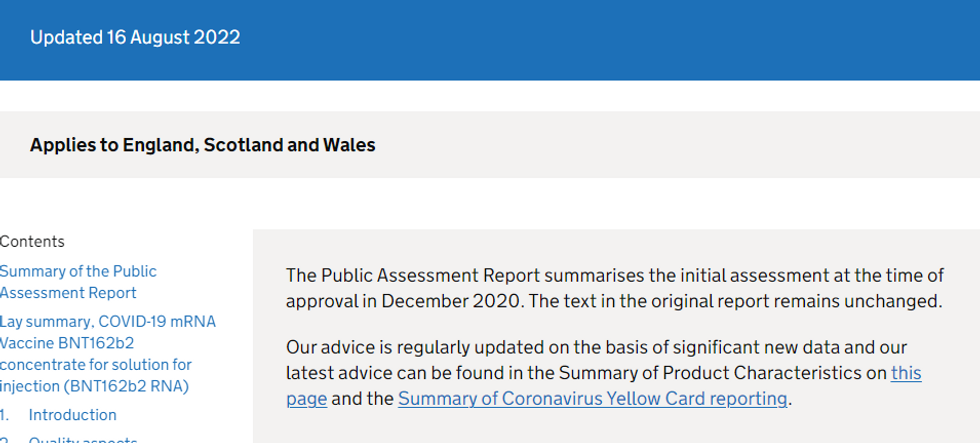 Yet they still list the most recent update to this page as August 16, rather than September 2, which is when this box was inserted.
This is the same cat-and-mouse game the U.S. government has played every time researchers point to damaging statements from their own websites; they seek to tamper with the website and then dispatch their media allies (that we now know worked directly with them) to label it as misinformation.
However, in this case we need not haggle over the semantics of the U.K. government's current recommendation vs. the timing of their post raising concerns about vaccinating nursing and pregnant women. We can simply open our eyes to what we are seeing epidemiologically throughout the world. It is now a proven fact that these shots can potentially cause thousands of categories of injuries and that there is a causal relationship with excess deaths and severe adverse events. While it's not proven yet that they cause specific fetal-maternal issues, the correlations are too strong to ignore, especially when we usually take a "guilty until proven innocent" approach with new therapeutics administered to pregnant women – even those that aren't associated with so many injuries to non-pregnant women.
Nowhere is this violation of the Nuremberg Code with reproductive health more apparent than with a recent study published by the Israeli government. Israel's Ministry of Health tasked Prof. Mati Berkowitz, a leading Israeli expert on pharmacology and toxicology, to put together a group of experts to examine vaccine injury from Dec. 2021 through May 2022. After the results were concealed for two months, among many of the report's findings was that for 90% of those who experienced menstrual irregularities from the shot, they lasted for at least three months.
\u201cWhat happens after the IMOH learns, in an internal discussion, that contrary to what they repeatedly claim, menstraual irregularities are not short term and transient, but in fact many times long-term,\u201d

— Yaffa Shir-Raz (@Yaffa Shir-Raz) 1661364469
Researchers further established causality between the menstrual irregularities and the timing of the shot, because a number of Israelis who experienced the problem after the first dose suffered from a relapse right after the second dose.
\u201cand that even when they do pass, they re-appear many times after repeated doses - which establishes causality?\u201d

— Yaffa Shir-Raz (@Yaffa Shir-Raz) 1661364469
Israeli health reporter Yaffa Shir-Raz translated parts of the report in Hebrew. Here is the money quote:
Studies carried out on the above-mentioned subject noted short-term abnormalities (up to a few days) in the menstrual cycle. However, over 90% of the reports detailing the characteristics of the duration of this adverse event indicate long-term changes (emphasis in the original. Y.S). Over 60% indicate duration of over 3 months.
Steve Kirsch has an exhaustive report on the Israeli government's cover-up of the report and how officials dragged their feet reporting this to the public, then distorted the magnitude of the findings by misusing denominators from the study period.
Now, does this alone mean the shots are necessarily causing maternal-fetal problems? Not proven, but when you put it together with the VAERS reports of nearly 5,000 miscarriages and 11,300 reports of vaginal hemorrhaging, the sudden decline in birth rates in numerous countries perfectly coinciding with nine months from the period of vaccine take-up, the sudden rise in stillbirths over a similar time period, the studies showing decreased sperm count and motility, and that the pro-inflammatory lipid nanoparticles deposit in the ovaries and testes, it is immoral to continue with this until the vaccine is definitively ruled out as a cause. Long-term suspension of menstrual cycles is nothing to scoff at.

In a leaked video of the video meeting of the committee experts, Prof. Berkowitz says, in reference to the long-lasting side effects:
Here we will need to think about this medico-legally. Why? Because for not a few side-effects, we said, "OK, it exists and there's a report, but please get vaccinated." So we need to think about how to write it and present it in the correct way, so they won't come afterwards with lawsuits: "Wait a second, you said it would go away and it's OK to get vaccinated, now look what happened to me."
Fortunately for Pfizer, the voices of those victims are drowned out because there are no lawsuits. Pfizer and Moderna are completely exempt, even as they get billions in taxpayer funding, free marketing and distribution, and government-sponsored censorship on their behalf. This is why they can continue injecting them into the most sensitive demographics without any accountability.